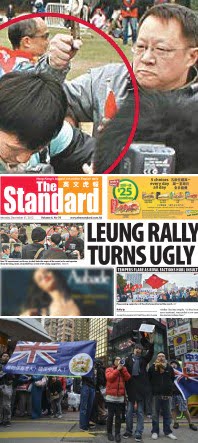 The fists of righteous harmony were in evidence at yesterday's rally in support of Hong Kong's Chief Executive CY Leung (not to be confused with tomorrow's rally in support of him, nor with tomorrow's one against him). A senior and burly gentleman whom I hereby name 'Boxer Uncle' thumped a reporter from Now TV on the head, which by the Big Lychee's standards is about as serious as political violence gets.
Boxer Uncle would probably have been irate because, in his view, Now TV tends to lean towards the pro-democracy opposition camp. To the extent it in fact does so, it is because its owner is Richard Li. He is the son of super-billionaire Li Ka-shing. The boy Richard blames his pro-establishment father for the suicide of his mother, and mildly supporting the government's opponents (he bought ad space in the Civic Party's newspaper for a while) is his way of getting back at Dad. (There probably should be an 'allegedly' or two sprinkled around that.) To complicate things, Li senior's businesses are pre-eminent in Hong Kong's property cartel, whose members utterly despise CY Leung.
Confused? You will be. Yesterday's gathering was organized by Caring Hong Kong Power. Tomorrow's pro-CY march will be convened by something called the Voice of Loving Hong Kong. The anti-CY demo comes to you courtesy of the Civil Human Rights Front, while a semi-separate assembly in favour of the same cause comes under the banner of the League in Defence of Hong Kong's Freedom. Some anti-pro-CY folk got together yesterday to irritate the Caring HK Power people by waving colonial flags; they are still thinking up a name – maybe the Caring Voice of Human Freedom or the Civil League of Loving Power.
Caring HK Power have previously mounted protests against right of abode for foreign maids and in favour of National Education. Judging by their past activities and the no-nonsense attitude of Boxer Uncle, they are a humourless, surly bunch who are essentially anti-democrats as much as pro-anything. The Voice of Loving HK has just been formed by one Patrick Ko Tat-pun, an obscure member of legislator Regina Ip's New People's Party. As the South China Morning Post puts it: 'He also disclosed that he had joined a social club in Shenzhen several years ago without being aware it was affiliated with the Communist Party's United Front Work Department'. With such a charming name (good for a karaoke place) and an amusingly accident-prone leader, they sound like a nicer set of people, but – as Ringo Starr said – tomorrow never knows.
While either or both groups may be funded by some sort of patriotic elements, it is unlikely that they are directly guided by Beijing's officials in the local Liaison Office, which has never shown much apparent interest in organizing democrat-style street activities, but would do the job far less shambolically if it did. If yesterday's assembly is anything to go by, the pro-CY demonstrators do more damage to the Chief Executive's image than the pro-democrat opponents. Maybe the property cartel are behind them.
The virulently anti-Chinese Communist Party, mystical/wacko Falun Gong sect/cult will also be parading tomorrow. Maybe their presence will draw out the Hong Kong Youth Care Association, a very obvious United Front tool with whom FLG have been engaged in extensive banner wars in Tsimshatsui. Somebody else is demonstrating tomorrow as well, but I can't remember who it is. The anti-sex brigade? Dog lovers? The Judean Popular People's Front? So hard to keep track. It'll be crowded out there.
In the midst of all this protest and discontent, the SCMP letters page suddenly spouts something from a parallel universe in the fifth dimension. Someone in distant Sai Kung complains that his phone company texted (I presume) him his monthly bill on the 25th of the month, as I bet they do every month. Such an intrusion of everyday reality and life appears to have shattered his Yuletide revelry, which we can only guess is spent at the escapist child-like wonder end of the Christmas Spirit scale. I know Sai Kung's a bit out of the way, but the idea that a Hong Kong phone company would suspend its computer-generated bill-sending system for Christmas Day is amazingly touching.
 I declare this week's midweek semi-weekend open.