If China's new leadership is serious about reform, it needs to deliver action, not just words. That's the gist of every other op-ed piece and comment column in the international press over the last few weeks. Two stories today give us a hint about what action we can expect.
First, an official think-tank urges the government in Beijing to tighten its grip on the Internet. Plucky little Hong Kong gets a name-check here, with the Chinese Academy of Social Science's Blue Book citing the local backlash against national education as an example of the dangers of social media. The basic philosophy here is that if the ruling regime can stamp out discussion of and complaints about corruption, pollution, injustice and other government failings, the country's problems will miraculously vanish. It's not exactly fresh thinking, and history suggests it ultimately doesn't work. (Echoes of the 80s in the Eastern Bloc in Europe: the USSR's international direct dialing system was replaced by old-style operator service for 'technical' reasons, and in some Warsaw Pact countries people needed a licence to own a typewriter – and photocopiers were kept under lock and key.)
Second, the Big Lychee itself is to enjoy the continued attention of Zhang Mingxiao, who is appointed head of the central government's Liaison Office here. After a quarter-century career in the Hong Kong and Macau Affairs Office – where he is deputy director – he obviously knows the city intimately. And his recommendations for the place he has watched so closely? That, as the South China Morning Post reminds us, we get on with implementing Article 23 of the Basic Law to introduce national security laws, and we guard against evil foreign forces interfering in local elections.
It was great fun last time, and I must say I can't wait for another attempt at Article 23. You'd have thought after 2003 and this year's spat over national education that these people would get the message and maybe try something different – but evidently that's out. As for local elections, presumably Zhang feels more comfortable with the one taking place today for Hong Kong's deputies to the National People's Congress: hardly anyone is even aware that it's happening, and China must have finalized the 36 winners weeks back. The new-look radical reformist regime in action. Next week, they tell the wives and children of Li Peng, Jiang Zemin, Wen Jiabao, Xi Jinping, et al to surrender their billions in shareholdings, real estate and sports cars and stick to mending socks.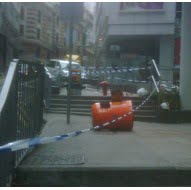 If Zhang wants to make himself useful, he could urge the Hong Kong authorities to clean up some tawdry little black spots in town that desperately need some socialist civilization with Chinese characteristics. Anyone walking below Lan Kwai Fong first thing in the morning, even on a weekday, can't help noticing that the quantity of broken bottles, cigarette butts and disgorged human stomach contents has been growing alarmingly. Today was particularly bad, with the Wyndham/Wellington Street intersection even hosting a crime scene, following what looks like a brutal and unprovoked assault on an innocent refuse bin. Who's doing this? We can rule out one possible group of suspects because I see they are still hard at work with their studies. And I don't think we can blame Mainland tourists.