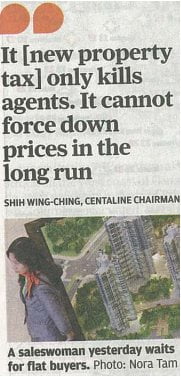 Following the recent dry spell, Hong Kong has become warmer but not really hot; the air is suddenly humid, and the sky is grey and drizzling. Spring has arrived! And with it, a cascade of exciting news.
The government has introduced new stamp duties on residential property. The idea is to curb speculation by Mainlanders laundering dirty money and by others seeking a store of value in the face of global inflationary monetary policy. According to a quote in the South China Morning Post, this will kill real estate agents, and for this alone, it surely deserves our full support.
One objection is that expatriates who have not quite qualified for permanent residency here will be lumped in with Premier Wen Jiabao's family and other folk from over the border carrying suitcases of cash. But if honest, taxpaying new arrivals decide not to buy at today's idiotic prices, they will surely drop to their knees in thanks to Financial Secretary John Tsang when the inanity of HK$10,000 a square foot for a concrete box in Tseung Kwan O reaches its inevitable denouement.
Another objection is that the herd will now pile into industrial and commercial real estate. This raises the intriguing question of to what extent investing in Hong Kong property is a psychiatric disorder, or at least a pathological collapse of the imagination. You can put your wealth into stocks, bonds, commodities, precious metals, farmland, futures, with long and short variants, from across an entire planet. But for grim-faced masochists petrified of losing a few percent of their millions to inflation, the only possible asset is concrete boxes in one city in East Asia. The upside is outweighed by the downside, the transaction costs were onerous even before the government's new stamp duties, the paperwork is tedious, and at the end of the day you have the burdens of ownership, like fixing leaky plumbing and collecting rent. The only attraction is cheap financing – which implies leveraging, which raises the possibility of bankruptcy. Some people deserve to be wiped out.
What will an amphibious and airborne assault by the People's Liberation Army do to the Centa-City Index? CCTV carried a report last week that the PLA Hong Kong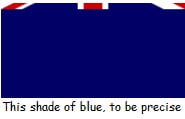 garrison held an exercise in which they fought a 'Cantonese-speaking' 'blue' enemy army. The full hilarity is here. The war game was itself a make-believe one performed for the benefit of the cameras. With no Cantonese-speaking nation or military force in existence, the message is clear: the PLA is prepared to crush an uprising of Hong Kong pro-independence freedom fighters.
The freedom fighters themselves denied yesterday that they were pro-independence. And, in his tellingly inverted-comma-smothered manner, even the true patriot (translated from Ta Kung Pao) must admit that…
Different from "Taiwan independence" as well as "Tibet independence" and "Xinjiang independence" on the mainland, the "Hong Kong independence" movement has remained hidden from public view.
As things that don't exist tend to be. (You'd have thought they had enough independence – sorry, "independence" – movements to worry about as it is.)
Was the PLA anti-Canto war games story aimed at the Hong Kong audience as a warning, or at the Mainland public as a reassurance, or at some part of the Beijing power structure, maybe to counter some sort of criticism? Assuming it was aimed right here, at the uppity, flag-waving, anti-locust city-state enthusiasts, we can only wonder at the complete disconnection between Beijing and Sheung Shui. The Cantonese enemy forces are a bunch of kids who are pissed off because their city's quality of life is being damaged by an excessive influx of visitors and a sharp rise in housing costs, and have discovered a revanchist symbolism that touches a nerve. The military, the Party-controlled media and the Beijing officials monitoring Hong Kong claim to see a genuinely separatist impulse, all the better a reason to tighten the screws on the Big Lychee – which will provoke yet more of the very behaviour and sentiment they say they want to eradicate. It would be side-splitting if it weren't ultimately unfunny. John Tsang, in his own muddled little way trying to do something about housing, is a light in the darkness.