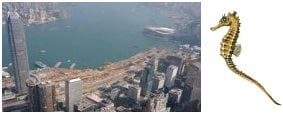 The mood on the Mid-Levels Escalator this morning is part- puzzlement, part-fear.
Puzzlement because of the fuss over a tiny stretch of shoreline in lonely, faraway Tai Po. Don't environmentalists and sudden admirers of the plucky little seahorse realize how much pleasure this forlorn New Territories community will get from having an artificial beach? We are blessed with a huge one here in Central, so we

should know. When Mainland tourists have stripped their local stores bare and barred them from their own MTR station, Tai Po residents can always cool off with a swim.
The fear arises from a sinister malevolence some believe is coming to devour their innocent young children. The main victim is Mr Chan the deputy vice president (foreign-exchange), who often shares his troubles with a few of his fellow commuters gliding their way down the hill to the central business district of Asia's throbbing financial hub.
In the past, he has mentioned taking his family to church on Sundays – the Praise the Lord for Our Wealth Assembly on the south side of the island. He has also complained about the problem of finding a sufficiently devout, Darwin-free school for his two daughters. Most intriguingly, he has recently hinted that since getting married, his religious zeal has waned, while his wife's has very much strengthened.
A few weeks ago he told me and his neighbour, Ms Wong the marketing manager, that he had been ordered to find 'Christian' books for the kids. I of course suggested CS Lewis's The Lion, the Witch and the Wardrobe (despite having tossed it aside as a child for its tediousness). But his wife had objected because it was not clearly labeled 'Christian' and was published by a 'secular' company. Ms Wong innocently mentioned Harry Potter, but of course to paranoid fundamentalists the boy wizard is dangerous and occult. "It's Satan's attempt to induce us to disobey the command against sorcery in the Book of Deuteronomy," Mr Chan said, helpfully quoting chapter and verse (18:10).
So now the parents are seeking out dreadfully written novels in which our forebears lived happily alongside dinosaurs, and modern teens are saved from sex and drugs and rock n roll by allowing Christ into their hearts. For the elder daughter, aged 12, there is limitless Christian teen fiction on the way, such as quasi-romances in which boy meets girl, boy and girl pray together for guidance and resolve to remain pure until marriage. "I managed to stop my wife from giving Louisa a copy of I Kissed Dating Goodbye," Mr Chan says. "I mean, she's only 12. The book says you mustn't hold hands with a boy because you would be putting him above Jesus and God's plan for you. She doesn't need to think about these things yet."
His concern, he confides, is that Louisa has embraced her mother's extreme faith completely. The girl rises at six every day to read what she believes to be the inerrant Bible. She criticizes her father (correctly, I can't help thinking) for preferring such godless material as Asian Golfer. At a relative's home recently, when a kids' cartoon on the TV turned slapstick-violent, she insisted that her 10-year-old sibling Amanda join her in leaving the room.
The devil doesn't give up. "Yesterday, my wife and I had to cover the kids' eyes in the supermarket," Mr Chan tells me. "The cashiers and staff were wearing little red horns. For Halloween – it's a demonic and pagan festival, you know. My wife gets very anxious at this time of the year. Satan is trying to reach our little ones. That's what she thinks."
I try to put a positive spin on it. "Well, Satan goes away again on November 1. He's very consistent, at least." He is not reassured.
But there is a glimmer of hope. Little Amanda, he admits with a proud smile, is something of a rebel. "She said 'Don't be silly Daddy it's just a decoration' in the supermarket yesterday, and when she says grace before dinner… well, she doesn't mean it," he chuckles. Ten-year-old girls can be one of the most loathsome of life-forms on this planet – among vertebrates, anyway. But this little pre-teen sounds like a force for good, stiffening her father's resolve to choose rational thinking over his wife's torments about Hell and the unsaved. Indeed, I sense a nasty intra-family religious war in the making. Way to go Amanda!