The Wall Street Journal wishes us to know the truth about Hong Kong's tycoons. It appears they are in fact selfless and would love to compete even harder to bring consumers the cheapest of groceries in the most hygienic of environments, if only the government would allow them. The article concludes that "as long as there are low barriers to entry, they will not be able to earn excess profits." Which is of course exactly what those less enlightened than the WSJ thought these cartel-operators were doing (though possibly not specifically in the supermarket sector). Reuters confuses the issue by announcing the end of "obscene" profits for Hong Kong property firms. Maybe the last word should go to the reader of Time Out Hong Kong who, I recently heard, called the magazine to say that she had cried after reading February's Hemlock mega-opus on the plutocracy.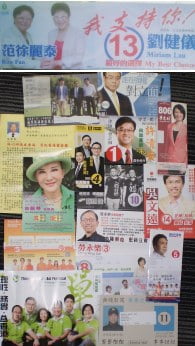 We will each get a chance to make a small, and probably all-but pointless, individual comment next Sunday when Hong Kong holds its quadrennial Legislative Council election. The bewildering profusion of candidates, lists and parties, and the absurd size of geographical constituencies, threaten to make the process even more of a farce than ever. Opinion pollsters have virtually given up forecasting results because candidates could win with percentages of the vote not much bigger than the surveys' statistical margins of error.
In Hong Kong Island, we have 14 individuals/groups running for seven seats. Three are the sort of deranged/loners/no-hopers you always get, with at least two leaning in a vaguely pan-democratic direction. That leaves:
Pan-democrats, in rough order of militancy…
Democratic Party (Sin Chung-kai et al)
Civic Party (Chans KL and Tanya)
Independent (Dr Lo Wing-lok)
Labour Party (Cyd Ho et al)
League of Social Democrats (Avery Ng)
People Power (bunch of people never previously heard of)
Pro-establishment, namely
make-believe Beijing loyalists…
Liberal Party (Miriam Lau)
New People's Party (Regina Ip et al)
…and true CCP believers…
DAB (Christopher Chung plus six)
DAB again (Tsang Yok-sing running alone)
FTU (five not overly proletarian types in orange T-shirts)
Miriam Lau imagines that endorsements from former Legco president Rita Fan and billionaire landlord Allen Zeman will win votes. So we can be reasonably sure that people who like this sort of un-communist conservatism will flock to Regina.
On the other hand, the devout communist DAB-FTU – which operate as a bloc in Legco – would appear to be cannibalizing themselves. In their favour are the black hands of Beijing's local Liaison Office, and organized and obedient followers who can be guided to divide votes among, say, family members. Even so, the FTU have turned up for the first time in Hong Kong Island to get votes, and could in theory spoil the DAB's supposedly cunning attempt to maximize gains through having two lists – though the working class is so thin on the ground here that it may make little difference.
The real mess is in the pan-democratic camp. In theory, they could clean up by coordinating everything and dividing the constituency up among different party lists on, say, a district-by-district basis (1 campaigns for Wanchai, 2 campaigns for the Mid-Levels, etc). In practice, such a diverse group is bound to splinter – but this looks more like atomization. It is perfectly possible that Lo Wing-lok and Cyd Ho will both fail to get in and prevent one or two other pan-dems getting seats to boot. Alternatively, votes could miraculously be scattered in such a way that they all just scrape in.
Why did then-Constitutional Affairs Secretary Stephen Lam choose to expand the existing five geographical constituencies rather than accommodate extra Legco members though additional, but smaller, clusters of seats? (Or, more accurately, why did Beijing tell him to do so?) When they offer candidates a feasible chance to get elected with just 5% of the vote, geographical constituencies have become too big to rig.
Since Legco is rigged (and constitutionally weak) anyway, maybe Beijing prefers encouraging internecine strife among its dreaded pan-dem enemies. A group of youngsters are on hunger strike outside government headquarters over National Education. (It's a Cantonese type of protest, in which they take it in turns to stop not-eating; no force-feeding required here.) If there were fewer pro-democratic groups vying for seats, such a protest, continuing as Election Day approaches, could inspire a game-changing turnout. As it is, any such effect will be dissipated. Even Miriam says no to National Education.
On a brighter, heart-warming note: In a touching tribute to the Special Olympics currently underway in London, Louis Vuitton are advertising their latest range of impractical but very noticeable ladies' hats with mildly mentally retarded models…