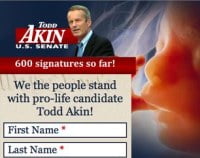 I had never heard much about Missouri Republican Congressman Todd Akin, and I was expecting to wake up to the news that he had backed out of the Senate race after his now-infamous remarks about 'legitimate rape'. Even his party's leader and presidential candidate, Mitt Romney, was begging him to spare the GOP the burden of having him around. But the deadline for withdrawal passed early this morning Hong Kong time, and the guy is defiant. Could other ultra-pro-life candidates, including vice-presidential candidate Paul Ryan, now lose the party women voters? Tough. More moderate GOP candidates could suffer too? Tough.
The parallels between having a position of absolute – thus extreme – opposition to abortion and having an unauthorized trellis are admittedly inexact. But Akin's refusal to stand down, which is essentially an insistence on only partially (as in barely) apologizing for his comments, sets a magnificent example for the wimps who pass as politicians in Hong Kong.
The average Big Lychee office-holder getting caught with an illegal structure or subdivided apartment tends to act in one of two ways. Either he makes a big show of removing the clothes-drying frame and appears on TV almost in tears with his family pleading to be forgiven. Or he makes mumbling excuses about how it all happened decades ago, and his wife was looking after it, and the whole thing was buried and forgotten under a pile of holding companies and sub-tenancies.
Were Akin here, his response would be simple: "Yes I have a trellis; I know some people (who are probably the Cantonese version of atheist, progressive, un-American, gun-banning, baby-killing liberals) find trellises somewhat offensive, and I regret misspeaking like that, calling it a legitimate trellis – but it's my trellis, I like it, and I'm keeping it, and my supporters back me, and I don't give a damn what anyone else thinks." Oh, for such bloody-mindedness.
Hongkongers find unauthorized building works morally offensive because most of them live in tiny overpriced homes, and it angers them if someone else has the good fortune, gumption or guile to grab extra space by cheating. In fact, nobody else gets hurt in most cases, but the sense is that warped land policies and building codes ration space artificially tightly, and UBW-owners are getting an unfair share of the ration. (Technically, they are depriving government of property-based revenue, so UBWs are not purely victimless transgressions.) Under certain circumstances, this relative sort of unfairness arouses burning rage among many Hong Kong people.
Killing an unborn child, on the other hand, is fine. The law in Hong Kong was pretty much drawn from that of the UK: abortion is legal within the first 24 weeks of pregnancy with the authorization of two doctors on grounds of the woman's physical or mental health. In practice, that means on demand, and in the first 10 weeks it is simply all part of the service. For the price- or bureaucracy-sensitive, clinics over the border in Shenzhen will do it on a walk-in basis in less time than a hairdo; see the ads in the trains from Kowloon to Lowu for details. The Roman Catholics probably make occasional protests about it, but few pay attention. Even our local fundamentalist Evangelical born-again Christians seem uninterested. A few superstitious types bear terminations in mind when leaving offerings for 'hungry ghosts'.
In the US, it's the other way round. People are pragmatic about trellises; it's between you and your conscience. But abortion is a matter of overwhelming moral principle: either a woman's right to control her own body, or a fertilized human egg's right to be carried to term. The unavoidable fact that a woman who wants an abortion will have one whatever the law says is not allowed to muddy the purity of these rival ideals.
Todd Akin's stance is that the rights of an embryo equal, if not even override, those of the woman carrying it. On a theoretical level it is a perfectly logical moral position if you accept life as sacred. At the margins, pro-lifers concede that abortion is the lesser of two evils as an unavoidable side-effect of saving the mother's life (the Catholics have a nifty four-point checklist halfway down here). Otherwise, abortion cannot be permitted. Making exceptions in cases of incest or rape is illogical, as Akin knows and accepts full well, and as does VP-candidate Paul Ryan. It's like a trellis: there is nothing to apologize for here. The embryo committed no crime, and its right to live is absolute – end of story.
In other words, the mother's interests, desires or feelings are less important than the embryo. In other words, ultimately, yes: an embryo is more important than a woman. Women are less important than embryos, if you insist. That's the practical outcome of Akins's strongly held belief. And it's going to be a vote-loser for Republicans. And that's why I am amazed at the news this morning, though it should not really be surprising when we consider that this is about someone – and others like him – for whom simple, clear dogma must override everything, however impractical in our imperfect real world.
Missouri's gift to Obama.