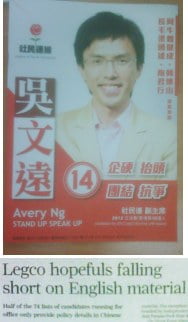 My first encounter with a 2012 Legislative Council election hopeful takes place bright and early at the bottom of the Mid-Levels Escalator. Candidates must have some sort of roster for using this spot in the morning because you never see more than one group campaigning there at the same time, yet it's a prime canvassing location, delivering a stream of voters commuting down to Central on Hong Kong's human conveyor belt.
Today's leaflet-thruster is the personable Avery Ng Man-yuen of the radical League of Social Democrats. He is cursed with the unlucky ballot number 14 but, on a more auspicious note, wears smart-casual rather than a silly party-branded jacket or sash.
A couple of other contenders have already been here in the last week or so, and they will no doubt be back over the next three weeks. One was the Federation of Trade Unions, who have an incredible five candidates running in Hong Kong Island. As pro-Beijing champions of the working class, they don't hand out literature to people who look vaguely well-off, anyone under 50 or Westerners. Luckily, the Mid-Levels has a few elderly residents for them to greet and fawn over. Today's South China Morning Post surveys election pamphlets and finds that most have little or no English content. Oddly, the FTU on Hong Kong Island is pretty much bilingual.    
The other candidate was an extremely forgettable nonentity. It might have been this guy, one Hui Ching-on, who's an independent…

Would you buy a used car from this man?
Avery was the first one to press a leaflet on me, so he gets a special mention. Sadly, the website address on it – www.manyuen.com – leads to some language school in Canada. After experimenting, I track him down at www.manyuen.hk. The government has also allotted him a page at the Electoral Affairs Commission site. Neither contains all the content of his bilingual leaflet. If this sounds a bit amateurish, that's because it is. From what I've seen of the 14 groups on the ballot on Hong Kong Island so far, his communications effort is above-average. (At least we don't have people running for office who blurt out bizarreness about 'legitimate rape' or think the UN would have the wit to ban golf courses.)
Avery gives his life story (educated in New Zealand) and outlines the LSD's manifesto (release political prisoners in China, report Donald Tsang to the ICAC, oppose brainwashing National Education, mourn for Li Wangyang). Then he lists his platform. It's quite good – for someone in a Trotskyist group, anyway. I'm not sure about nationalizing public utilities or planning bits of the economy, but the items on land and tax reform make sense, as do little things like ending the school textbook scam.
The LSD are rabble-rousers who pull stunts like throwing bananas during the Chief Executive's address to the Legislative Council (a witty allusion to the 'fruit money' old people's allowance). To the pro-establishment media, they are malevolent social misfits and a reason to be wary of democracy. To mainstream pan-democrats, they are hotheads whose antics provide the government with excuses to curb potentially useful parliamentary devices like triggering by-elections and filibustering. To their fans, they are the only people in Hong Kong politics who have a clue.
In the 2004 election, future LSD founder 'Long Hair' Leung Kwok-hung more than trebled his previous vote at a time of intense anti-government feeling. Analysis showed that much of the grassroots street-fighter's support came from well-educated 20-somethings. In 2008, he and his comrades won 10% of the vote (the FTU won 5.7%, the main pro-Beijing DAB party got 22%), leaving the LSD with a proportionate 3 out of 30 democratically elected seats. With seven seats now up for grabs in Hong Kong Island, and both pro-Beijing and pan-democrat groupings set to cannibalize their ideological allies' support, young(ish) Avery looks like a tempting protest vote.