Japan looks set to deport foreign activists who landed illegally in the Senkaku islands, or release citizens who have been illegally detained in Diaoyutai – according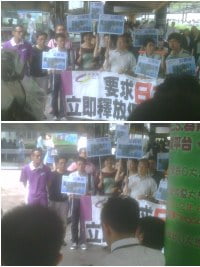 to taste. Although we have seen Diaoyu protests and expeditions before, the uniformity of opinion among virtually all conceivable Greater Chinese parties is unprecedented. Beijing, Taipei, the Hong Kong government, Mainland netizens, their Hong Kong counterparts, the Big Lychee's pro-Beijing working-class Federation of Trade Unions and (snapped as I passed Exchange Square yesterday) the anti-Beijing middle-class Civic Party are all toeing the same line. How often does that happen?
If any one element is slightly deviating from the consensus, it is Taiwan officials, who are differentiating their phraseology a bit. This is mainly for branding purposes, to emphasize that they are not part of the PRC. But it may also reflect something people there don't talk about too much: many Taiwanese thought Japanese occupation from the 1890s to 1945 was OK – good infrastructure, decent schools and all that.
Japan is the reason why the Senkakus/Diaoyu is unique in uniting Chinese who would normally hate each other. In Hong Kong people as far apart as pro-democrat Audrey Eu, Chief Executive CY Leung, patriot Lew Mon-hung and former Legislative Council president Rita Fan have all reportedly donated to the Diaoyu activists, who include such radical anti-government firebrands as boisterous League of Social Democrats activist Tsang Kin-shing (aka the Bull).
After years in which United Front work in the Big Lychee has left much of the community estranged from if not hostile to all things Mainland, this must please Beijing, which ordered/allowed the Hong Kong government to openly support what is largely a Hong Kong-organized expedition. But will it be possible to build on this and unite the community behind other patriotic causes? Chinese sovereignty over the South China Sea? Chinese sovereignty over Tibet? The injustice of American complaints about China's exchange rate? The need – for the sake of harmony – to persecute blind lawyers and other busybodies protecting the little guy against corrupt officials? The glory of the Communist Party and the need for one-party rule? The coolness of weeping astronauts? The importance of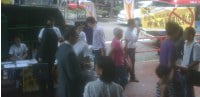 National Education in local schools (opponents of which I snapped yesterday in Wanchai)?
It sounds unlikely. It is Japan that brings everyone together. The Chinese government's hurt 'innocent victim' act can be tiresome, but Japan's is nauseating. Unlike the Germans in Europe, who have never stopped beating themselves up over World War II, the Japanese still don't quite see what the fuss was about. We needed resources from Southeast Asia; we displaced alien Western colonial regimes there and provided Asian rule; our soldiers used a few prostitutes here and there; then the evil Americans slaughtered hundreds of thousands of our civilians with atom bombs, and we've been feeling sorry for ourselves at candle-lit peace shrines ever since.
It's a wanton obliviousness to history that makes other Asians' – and non-Asians' – blood boil. An old neighbour of mine talked about having to bow to Japanese soldiers in the street when she went to school in the Mid-Levels, otherwise they would chop your head off. It happened. My own father, whose contact with the Chrysanthemum Throne's forces was brief and as a victor, bought bad-quality cars, cameras and electronics throughout his life rather than touch any Japanese product. Shanghai's World Financial Centre had to be re-designed because the hole in the top reminded people of the rising sun flag. Don't forgive; don't forget. It's the one thing everyone can agree on.