This just in: Body found at or near inappropriately named place for the first time in a while…

In the old days, there was a story that appeared in the Hong Kong press pretty much every few weeks. It always happened in a 'hut' in, it goes without saying, Kowloon, usually late at night. It would involve several men and one woman. The woman would apparently have been raped, but police inquiries would have been continuing. The key point, however – and this was the common feature to this alleged crime on every occasion – was that all those involved, male and female, went for noodles afterwards.
More nostalgia: amateur seafaring heroes are sailing off in rickety vessels to reclaim the Diaoyu/Senkaku Islands from Japan. As they have for decades…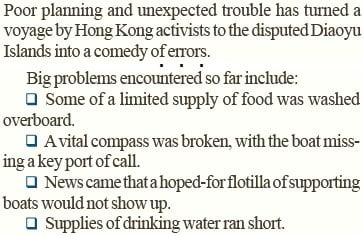 Apart from that, everything went like clockwork.
This goes back to the 1970s (when the US transferred Okinawa back to the Tokyo authorities). For many of the older generation, it was their first political activism, which is probably one of the reasons feelings run so extraordinarily high about it. It is a rare issue that unites pro-Beijing and pan-democrat activists, just as it puts Mainland China and Taiwan on the same side. You might see 'Long Hair' Leung Kwok-hung on the pier next to some seedy businessman from the Democratic Alliance for the Betterment Etc of HK, with Communist and Nationalist flags both on display. By tradition, either someone drowns or the boat falls apart, or at least turns back for lack of insurance cover.
Usually, the Hong Kong government keeps its head down; the official policy has been to prevent the activists from sailing if their vessel was unseaworthy. Colonial-era Chief Secretary Anson Chan referred to the rocky outcrops by their Japanese name and clearly found the expeditions a bit low-class. But our new Chief Executive CY Leung has been more positive and voiced concern for the brave 'all at sea' patriots, who find themselves in the unusual position of having something nice to say about him.
The post-World War II treaties clearly make Diaoyutai Japanese under international law, though the PRC was not a signatory to the documents. If you look at a
map, the islets look pretty much part of Taiwan – but that is an over-simplistic way of determining ownership, and Scarborough Shoal 'looks' clearly Filipino and the Paracel and Spratley islands 'look' clearly Vietnamese, so we can't have that. China's claim is based on history: 'our fisherman landed there centuries ago'. Beijing also uses this justification for its claims to places like Scarborough Shoal (as if no-one else's fisherman went near it).
This approach offers an intriguing opportunity for the government in Manila. Before Chinese settled Taiwan – as recently as the Ming Dynasty – the island had a longstanding aboriginal population who were Austronesians. They might have come via the mainland or, being an island-hopping culture, from Luzon to the south. Either way, they were of what we would now call Malay stock, and the few who keep their traditions alive up in the mountains still have the colourful stripy costumes and the funny dances where girls skip over bamboo poles. In short: they're Filipino. Thus, so is Taiwan, thus so are the Diaoyu/Senkaku. Problem elegantly solved.
Meanwhile, the Hong Kong weirdness continues: While parents' backs are turned, girl sells entire family's worldly possessions for enough to buy a few rounds of drinks. Full details at ten.