For many smaller businesses in our cartelized, monopolistic, anti-competition World's Freest Economy, advertising presents a problem. There are only two broadcast TV stations and a small clutch of commercial radio outlets, and the airtime is far too expensive for most companies. Space in newspapers isn't cheap, and there is no equivalent of the suburban editions published by city papers in the US, in which advertisers can target just one neighbourhood. Prominent billboards and neon signs cost big bucks. Many small businesses have no choice but to add to the clutter of street-side signage, install garish audio-visual displays or push fliers into mailboxes or into the resistant hands of passing pedestrians.
With a few high-profile exceptions, our politicians are mostly like small and medium enterprises when it comes to publicity. In some districts candidates stand by the roadside waving at passing traffic – begging for sympathy votes, presumably – or they wear costumes and canvass on bike or open-topped bus. Mostly, however, they hand out leaflets. And they drape banners on railings, just as housewives in the more third-world parts of town dry bed sheets.
The government allocates candidates patches of railings known as 'designated spots'. They cannot be visible from traffic junctions or pedestrian crossings, in case they distract drivers and you get an accident (note that this ban doesn't apply to any other eye-catching signage, like graphic ads for breast enhancement services). The guidelines for electioneering are detailed and inflexible, and politicians' banners are similar in size and shape.
The design of these banners is often dismal. The grumpy old pro-Beijing guys have the worst: an unsmiling portrait in a circular frame, and little thought given to typefaces or colours. But some are OK, and this one for 'big sister' Pamela Pak, the radio personality running for the new and confusing at-large District Council Functional Constituency is almost worth stealing and sending to a young relative who would love it on her bedroom wall…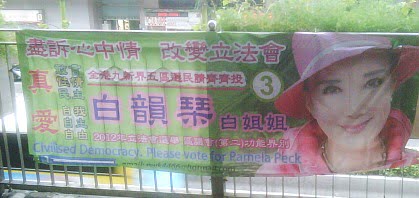 The name is pronounced 'baak', as in 'baak choy' – as befits someone with a cadaverous white face. But most people write 'Pak' in English, while she seems to have adopted Peck. Are we supposed to subliminally think '…on the cheek'? I would like to think so; it's one device the Electoral Affairs Commission hasn't banned. Any resemblance of the candidate to Audrey Hepburn is possibly not coincidental, and indeed is a testament to the wonders of PhotoShop. The photo is close-up and cropped and goes right to the edge of the poster with no margin or frame ('bleeding edge' in graphic-speak). This is a modern look; traditionalist old grouchy pro-Beijing types wouldn't want to portray themselves this way, not least because it's bad feng shui to 'cut' a bit of yourself off.
Then we have the colours – so rich you can almost taste them. The warm raspberry flavour of the fuchsia-pink clothing is echoed in the background to the characters announcing her name and is in sharp contrast to the fresh, crisp mint of the green background, while the dark blues of some of the lettering add a hint of respectability and gravitas – as if to say "I am more than just a tax-dodging, ex-convict joke-candidate with an embarrassing clown for a partner, with whom I have become a poor man's Brenda & Kai-bong Chau." Design-wise, as we shall surely see when we take a few steps further down the pedestrian walkway outside Exchange Square to examine Pamela's rivals' efforts, this is a classy Legco 2012 banner.
On other matters (1)… You are Paul Chan. You have been given the job of Development Secretary to solve Hong Kong's appalling housing problems. The public finds out that you in fact make money out of the suffering caused by Hong Kong's appalling housing problems. A man stands up to defend you, but he is property tycoon Henry Cheng, who could fairly be said to be one of the reasons Hong Kong has its appalling housing problems. The South China Morning Post intones: "…analysts are not sure this will be enough to steer Chan through the crisis…" You are inclined to agree.
On other matters (2)… Looking through some rather weighty material on the South China Sea – or Sansha City, as we should now call it – I read that Beijing is discouraging Mainland citizens from visiting the Philippines. Voila! Do we finally have an explanation for the Hong Kong Security Bureau's mysterious continued 'avoid all travel' Black travel advisory for the islands, so long after the freak Manila bus hijacking in which Hong Kong tourists were killed? Could it be one of those little duties the Big Lychee's authorities have no choice but to perform owing to pressure from above? Like turning away exiled dissidents and Falun Gong members at the airport, or like having a brave stab – at least – at introducing Article 23 security laws or national education? A riddle solved, maybe.