The History News Network has voted The Jefferson Lies by evangelist David Barton the Least Credible History Book in Print. Plugged by professional freak and broadcaster Glenn Beck, it is an attempt to re-invent Thomas Jefferson as what today's Christian Right would have liked him to be, notably a devout non-secularist – and one who wouldn't have fathered children by a slave girl, or think bits of the New Testament could and should be ignored.
Howard Zinn's A People's History of the United States is a runner-up. It is in many ways exactly what Barton's readers would most hate: the archetypal leftish liberal collectivist interpretation. Unlike a rewriting of history to suit Biblical literalists' fantasies, it is simply biased – laboriously so. It was still newly published when I was at college, and sure enough the brainwashing national education system of the time expected us to read it. Even then it seemed overly PC (as it would now be called), recounting a centuries-long series of noble downtrodden groups bravely rising up against the vicious you-know-what-colour, you-know-what-age, you-know-what-gender oppressors. It starts on page 1, paragraph 3… 

Which bring us rather neatly to another book in HNN's generally American-focused list of pseudo- and junk history. It's none other than Gavin Menzies's 1421: the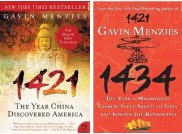 Year China Discovered America. Even six years ago, it was being dismissed as a joke, and I can't remember how many times I have transferred it from a bookshop history shelf to the fiction section. It is, to quote the HNN panelist:
…a stunning farrago of deceptions and misrepresentations of sources and scholars, [bringing] false historical writing and intentional public deception to a new level … the publishers have classified this volume as "non-fiction" with full knowledge that the book was fabricated by persons who had no knowledge of the Ming voyages … concocted to be sensational … depicting academic historians as unbending conservatives trying to keep knowledge of pre-Colombian voyages from the public … the Da Vinci Code of the historical realm … no book has done more harm in terms of misrepresenting the American (and indeed global) past…
Ouch. Chinese officials and state-managed academics, not always averse to hijacking archaeology and anthropology for the greater glory of the motherland, have kept their distance from Menzies's claims. They have, over the years, suggested unique descent of the ethnic Chinese from Homo erectus, adopted barbarian Mongol leader Genghis Khan as a Chinese, and declared millennia-old fishing trips as proof of ownership of the whole South China Sea, well into the 200-mile limits of the Philippines and Vietnam. But discovery of the Americas is a step too far. Which is just as well, since Menzies followed up his 1421 fantasy with an even more deranged 1434: The Year a Magnificent Chinese Fleet Sailed to Italy and Ignited the Renaissance. I can't wait for 1447: The Year the Ming Dynasty Landed on the Moon.
Even without demanding America and Italy, China has a lot of other countries' de facto territory on its shopping list. Beijing claims a bit of India on the grounds that the British grabbed it from Tibet (which of course has always always been part of China). It demands the Senkaku/Diaoyu islands to some extent on the grounds that they weren't historically Japanese, and, therefore, who else's could they be?
The big worry – and puzzle – now is the South China Sea. In a recent opinion piece, Kishore Mahbubani asks Is China losing the diplomatic plot? After years of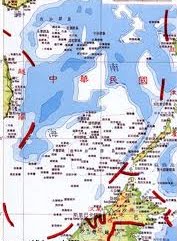 finessing the issue, Beijing has recently openly declared its claims to sovereignty over what are clearly other countries' territorial waters. In doing so, it has wrecked the trust it has spent decades building in Southeast Asia and guaranteed a bigger American presence in the region. And, by officially confirming the demands implicit in the infamous nine-dotted map, it has done so in such a way that it can't really back out. (Wang Gungyu's Straits Times article on the Japanese/KMT-derived map – like the SCMP's version of Mahbubani's article – is sealed away in an Internet vault, but can be seen here.)
Mahbubani blames overzealous junior officials, but it also sounds like some sort of tiff in which the PLA gets one over on the Foreign Affairs wimps. Either way, as with Taiwan, Beijing has painted itself into a corner. Any leader who tries to make concessions will have Politburo enemies or millions of nationalistic students wanting to string him up. If China carries on pushing idiotic, bullying demands, we can lay good odds that in five years' time the US will have a base at Cam Ranh Bay and there will have been anti-Chinese riots and lootings in at least one or two ASEAN capitals – plus all the global ramifications. All because of junk history.