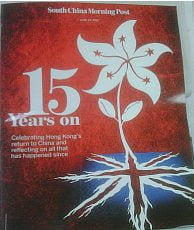 The South China Morning Post celebrates the 15th anniversary of the handover with a magazine supplement cover that surely qualifies for Most Grotesque and Inept Graphic Design Concept of the Year Award: the official stylized bauhinia flower growing out of 'roots' in the shape of a British flag. It's so bad, it's hard not to grin.
Opening the ultra-glossy publication, I expect to find pages of advertisements for ugly watches with funny European brand names. But the ads are almost all from the big property developers, offering congratulations (to whom?) on the occasion. (One is from UGL Services/DTZ, which sounds like it's related to new Chief Executive CY Leung; another is from the Kerry group, run by the SCMP's owners, the Kuok family.) The features cover an almost clichéd selection of subjects, from worsening quality of life, to the happy smiling People's Liberation Army, to forecasts of the years ahead written by… fung shui 'masters'.
This exciting souvenir is on-line, minus the print-edition's cover artwork.
The alternative is to read about CY's cabinet, announced better late than never yesterday. The Standard hilariously if unwittingly sums it all up by not even bothering to include a full list of the incoming administration's top officials. You can tease the details from this morass of a press release, or refer to China Daily. The line-up has been pretty much common knowledge for several weeks.
The first thing we should note is that this is to some extent an interim arrangement. When the new CE gets his restructuring through the Legislative Council, some old faces will be replaced by new ones; for example, Home Affairs Secretary Tsang Tak-sing will presumably be vanished away as a glamorous new Culture Bureau boss comes sashaying in. Still, there is something mind-numbing about the familiarity of the faces and the preponderance of bureaucrats, many of them mature in years and a surprising number who are balding (perhaps to compensate for the lack of that other persecuted group, women). Many officials are simply staying in place, while some are returning to government after having left years ago and being partially forgotten. What new faces there are do not exactly get the heart racing.
The basic problem is that CY cannot choose from a wide sample of Hong Kong's 7-million population.
Being a bit of a loner, he doesn't personally know many people. Being loathed by the property tycoons and much of the Donald Tsang-era establishment, he is something of a pariah in many business and so-called 'elite' circles. Then there is the nature of the job; even if you like CY, why would you want to subject yourself to the trials by media, the tormenting by legislators and the scheming and foot-dragging by civil servants?
A lot of potentially suitable people can't be considered. No whites or brown folk need apply. No-one with a foreign passport. No-one who can't pass a probably-paranoid Beijing loyalty test – to weed out any US-backed Taiwan splittist who might overthrow the Communist Party from the Mid-Levels one night. No-one, or at least hardly anyone, who has hung out with the pan-democrats in the past, because it will upset the local patriots (who are mainly too unpolished and unworldly to be considered themselves). No-one with illegal structures or bastard offspring or other skeletons stashed away somewhere.
It's amazing he could scrape this lot together…
If any appointment is guaranteed to make 7 million pairs of eyes roll in exasperation, it is that of John Tsang, who remains in the post of Financial Secretary. However, he could prove interesting – without meaning to, of course. As one of know-it-all Donald's archetypal smug and self-satisfied sidekicks, J Tsang hardly produced those dreadful budgets every year all by himself. The mindless accumulation and hoarding of wealth and the idiotic annual one-off distributions of candy to the masses have Donald's unimaginative stamp all over them. That's not to say there's a bold and original fiscal genius in John Tsang bursting to get out, but a new CE could easily arm-twist him in different directions.
With President Hu Jintao clogging up the traffic and plunging the police into blind panic, radical protestors demanding the right to screech at Hu in person and up-close, and forecasts of rain, I declare this three-day, Bye-Bye Donald Weekend open and best spent quietly at home.