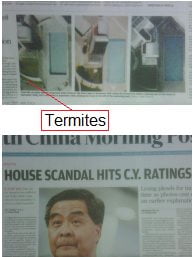 Hong Kong Chief Executive-elect CY Leung's trellis scandal has been upgraded to a 'glass-covered frame' outrage (with termites). Spy satellite photos revealing the extent of the barbarity appear in the South China Morning Post. Note how the colour of the water in the swimming pool shifts over time – without Buildings Department approval, you can be sure.
While anti-CY/pro-tycoon media are keeping the pot boiling ("there was no trellis…"), it is the pro-democracy legislators who are really stirring things up, with Audrey Eu and Lee Wing-tat both quoted as accusing CY of adding lie upon lie over the dreaded glass-covered frame. Audrey is additionally infuriated by the fact that some individuals are not joining in the hysteria.
At the same time, the Legislative Council expresses 'dismay', no less, at the next CE's 'lack of attention' 10 years ago when he failed to disclose a vague conflict of interest in a design competition for the West Kowloon Cultural District Hub Zone Complex.
The two alleged atrocities are similar. Both focus on whether CY Leung should have mentioned something of little consequence and of which he may barely have been aware. No-one gained anything. No-one lost anything. There are no victims. There is no evidence of malicious intent, and no evidence that CY even had a motive to do harm or wrong, apart from aiding and abetting creeping plants in his garden.
For a badly needed reminder of what is happening here, we turn to Southern District, where it so happens that Dutch-born civic activist Paul Zimmerman's application for Chinese citizenship will soon be approved. He will therefore be eligible to run in the Legislative Council election later this year. Actually, it's in September – ten weeks, three days away.
For various psephological as well as political reasons, that election is going to be even more bitterly contested than usual. We can't elect the government, but we can elect an opposition. The pan-democrats' main rivals – apart from each other – are the Democratic Alliance for the Betterment Etc of HK. The DAB are a front for the Chinese Communist Party and will support whoever Beijing tells them to. That means they will be pro-CY Leung. So in order to differentiate themselves and get elected, the pan-dems see no choice but to be vitriolically, mouth-frothingly, bed-wettingly anti-CY, regardless of who he really is (and especially if he introduces popular policies – because then the pro-democrats are screwed). The way they see it, they must smear him or die.
Strange system.