The cataclysmic 'Trellisgate' scandal outrage mayhem shock horror massacre of 2012 continues. Sources vary, but it seems the Democratic Party has been threatening to apply for a judicial review or submit an election petition (normally used after dirty New Territories village polls) to – in effect – force Beijing to fire CY Leung days after he takes office as Chief Executive. DP boss Albert Ho declared that they will decide whether to go ahead depending on the response to a detailed questionnaire CY must complete and return to them by a set date.
There is some word that they are having second thoughts about some or all of this. The action has a whiff of 'arresting Tony Blair' about it – a sort of outlandish self-importance that Albert Ho is particularly ill-suited for. Plus the time period for such challenges to election results expired a good couple of months back.
We need a bit of light relief, and amazingly we find it in Communist-funded Ta Kung Pao, via China Daily, which gleefully lists many pro-democrats with illegal structures. The Confederation of Trade Unions has a suitably proletarian 'tin-sheeted structure' on its roof (no bourgeois trellises here). At the other end of the social scale, the Civic Party's Ronny Tong has an unauthorized glass thing and an illicit swimming pool, as you do when you're a millionaire lawyer.
The one I especially like is that of Social Welfare functional constituency representative Peter Cheung Kwok-che. He lives in the once-shabby, now gentrifying and increasingly bohemian district of Sheung Wan. Nearly half of his apartment in Po Yan Street was constructed illegally, the article says, yet he has refused to demolish it as the "the building was 'too old' for any reconstruction work." I will make a note of that excuse.
Dwellers of dull, characterless, modern estate-type housing might wonder how you can illegally (or otherwise) double the size of an apartment in an urban area. A trellis, a place to store golf clubs (Education Secretary Michael Suen's), a small verandah windowed-up and absorbed into a room (CE Donald Tsang's) are one thing. But nearly 50% of the living space? In my neighbourhood not far from Sheung Wan, and probably quite a few other older areas, it's perfectly possible. It helps to be one floor up from street level.
The photo from Google Maps below shows Cheung's street, on the corner of sunny Hollywood Road (it's chopped up a bit to compensate for the fish-eye camera lens). I have no idea whether this is Cheung's place or whether it even shows an illegal structure. The fact that it overlooks the sidewalk suggests it is not unauthorized, as such additions are treated as a potential danger to passers-by and the authorities actually Did Something about them some years ago (though the structures sometimes reappeared in some form after the Housing Department enforcers goose-stepped out of the district).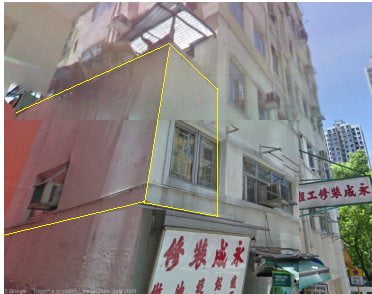 In theory, what could have happened here is that the yellow box was originally a large open terrace. For some reason, many of the older tong lau-type buildings in the area were designed this way, with a sort of proto-podium; maybe the planning code allowed for higher density street-level retail space than upper-floor residential. The terrace would have had a short wall around it and you could have a barbecue or dry your washing out there.
Or you could wall it in and add a roof. A small flat becomes a much bigger one. Hey presto – 'nearly half' your apartment is illegal. Goodbye, 450 sq ft, hello 800. The next possible step would be to knock the previous interior wall in, or you could keep your old verandah as a separate room or rooms. This would all have happened back in the 1960s and 70s. In my neighbourhood, units like this were common, and there are still quite a few not overlooking public areas. In a city where the government sees the population as the enemy, to be deprived of living space wherever possible, people would be crazy not to do it.
Oh yes, the authorities know all about the contraband living space. They give owners a stern warning: you have three months to remove the UBW. Then, as lawmaker Peter Cheung's gutsy-sounding riposte suggests, they do nothing. They put a note in the records so any future purchaser will know the property comes with an illegal add-on. The owner cries all the way to his sprawling kitchen for a beer.
The economics for a buyer are of course quite appealing. You pay the full market rate for the 450 sq ft, but only a modest premium for the ex-terrace. The extra money you would have spent on an 800 sq ft place goes into savings, compounded over the years and decades. If the slum district turns into a trendy neighbourhood, the value of the legitimate 450 sq ft multiplies as well. Peter Cheung could be quite a well-off social worker.