China's President Hu Jintao visits Hong Kong this weekend to swear in trellis-wolf-man CY Leung as new Chief Executive and celebrate the 15th anniversary of the city's return to the motherland. He comes in the midst of an opportunistic and somewhat unhinged backlash against the new leader. Pan-democrats determined to oppose anything and everything on principal demand CY's head for having a clutch of decidedly lame unauthorized building works on his property. CY himself criticized rival Henry Tang for having an illegal basement; therefore, the logic goes, he is guilty of some sort of crime. If he knew his house/garden additions were illicit – which is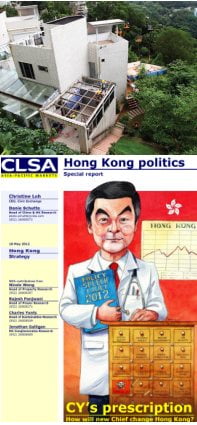 impossible to believe – the offense would be hypocrisy by a politician whilst campaigning.
Meanwhile, legislative business is coming to a halt as lawmakers fail to turn up to the chamber. As well as wandering off just as a quorum is needed, legislators have been resorting to filibustering. As a result of such obstructive tactics, CY's reorganization of government departments will probably have to be postponed until later in the year. Complaints that this is all the fault of reckless pro-democrats and radicals are misleading; pro-establishment figures are also discreetly enjoying the tormenting of CY. As a forecast on the forthcoming Leung administration asked (p.36): "Will the democrats and the commercial functional constituency legislators form an unholy alliance of sorts?"
That CLSA report has a stab at predicting the sort of policies we can expect in the next five years. Upgrading the Hong Kong fishing fleet to ocean-going status is one possibility (the agriculture and fisheries sector were among the first to nominate CY). Help for organic farming – quite a trendy activity in some patriotic/Buddhist-type circles – is another. The fact is that although he previously said some interesting things about Hongkongers' homes being half the size of Shenzhenites', CY toned down the radicalism and populism massively in the lead-up to the quasi-election, so we don't know what he really plans, let alone whether legislators, bureaucrats and vested interests will let him do it. Still, CLSA rate most of the mainstream developers' stocks as 'sell' or 'under-perform'…

With less than a week to go, we still don't officially know who CY's ministers and other Executive Council members will be, though there are plenty of rumours. One reason is probably that someone (presumably CY himself, or maybe Beijing) is insisting on really, really, serious vetting of everyone's background. This sort of thing is standard in the US and the UK, but a novelty here. The police Personnel Wing have been giving potential office-holders two- or three-hour (but friendly) interviews about their gambling habits, debts and finances, secret illegitimate children, past/present extra-marital escapades, embarrassing family members and much, much more. Oh – and illegal structures!