In America, everyone from ex-President Jimmy Carter on down admits to having lusted and thus committed adultery in their heart. In Hong Kong, where as we all know the definition of a queer is someone who prefers sex to money, the equivalent is having an illegal structure.
The list of the great and good with some sort of unauthorized addition to their property is getting ridiculous. We have Chief Executive Donald Tsang, ex-Chief Secretary Henry Tang, Chief Secretary Stephen Lam, Education Secretary Michael Suen, Environment Undersecretary Kitty Poon and Bank of East Asia boss David Li, not to mention my good self. And now, to this weighty directory of wealth, power and good looks we can add Chief Executive-elect CY Leung.
The discovery has provoked extreme wailing, gnashing of teeth and calls for the man to resign before even taking office. In Hong Kong, the presence of unauthorized building work on a home has become, as the saying goes, "an act of baseness, vileness or depravity in the private and social duties which a man owes to his fellowmen, or to society in general, contrary to the accepted and customary rule of right and duty between man and man." Yet we all have one. (Lots of us, anyway. Mass-produced estate-type apartments are probably less suitable for such illicit renovation, but many older or stand-alone buildings have illegal structures, and many owners don't even realize it.)
The herd of detractors seeking to skewer CY make the point that it is not the mere presence of a forbidden trellis, unlawful car port roof, proscribed metal gate, prohibited mini-basement and highly criminal garden shed, but the suspected dishonesty. As the Henry-supporting Standard asks: why didn't he tear them down after the earlier outcries?
There is only one logical answer, and that is that he honestly had no idea they were illegal. Otherwise, not being stupid, and realizing that enemies would use anything they could against him, he would have removed them in a flash, reputation barely grazed. It would insult our intelligence as well as his to suggest that he would think, "Gosh, I really like that highly visible illegal trellis – I think I'll just keep quiet about it and hope I get away with it." He knows what an unauthorized basement can lead to, yet he let a police security detail use his. You don't do that unless you are genuinely oblivious that there is a problem. Unlike Henry's luxury subterranean palace, CY's illicit structures are of marginal utility; his family wouldn't miss them, and they would have been easy to remove.
If his opponents concede that he had nothing to gain by not removing these features, they can argue that he showed a lack of diligence in not checking for them. Indeed, he should have had the place checked over inch by inch with the architectural version of a Geiger counter. These are known unknowns, not unknown unknowns. But what on Earth is really going on when a guy is strung up for having a canopy on a bit of his own property?
RTHK reporter Francis Moriarty said on the radio this morning that it is all about the notion of one law for the elite few, and another for everyone else. That is a major concern in Hong Kong, where well-connected offenders seem to get light treatment, the Chief Executive accepts private jet rides and rich-kid Henry Tang blithely continued to enjoy his undocumented 2,000 square-foot cellar. But when we enter the murky world of trellis-scale illegal structures, we find that the law is applied uniformly. From rich to poor, from the New Territories to Soho, from slums to mansions, we all flout the law – often unwittingly – and we all get away with it. Except now, if you are in the public eye, you don't, and the 'one law' that goes easy is the one that applies to the masses.
CY could usefully come out fighting and start a debate about the fundamental problem. Illegal structures exist because the government does not allow sufficient legal space for the population to live in. So obsessed are officials with this perverse policy of depriving the people of space that a trellis ends up being proof of evil. But sadly and predictably CY is playing along with his persecutors and offering apologies. Equally sadly and predictably, pan-democrats are essentially siding with the property tycoons and bureaucratic forces that hate CY and demanding his immediate impeachment and hanging. (Ex-Monetary Authority boss Joseph Yam and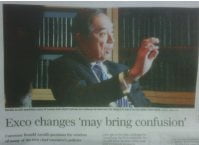 Michael Suen have both done their bit to make life more difficult for the new administration, and today it is the establishment alpha-poodle Ron Arculli's turn.)
One possible bright side to all this is that CY will be under more pressure than ever to start delivering results soon after taking office and impress the millions who have more pressing worries than his trellis.
(The heinous item in question, for garden-less Hongkongers who are curious.)