The body is still warm – still breathing, indeed – but the historical revisionism has already begun. China Daily reports that Chief Executive Donald Tsang believes he did a wonderful job, and adds that this is surely so, thanks of course to Beijing's assistance in developing Hong Kong as a Renminbi blah-blah hub. Despite having to abandon his earlier arrangement with a property tycoon's luxury apartment over the border, Sir Bow-Tie is, I am reliably informed, still determined to retire to Shenzhen, where he can expect this sort of glowing coverage whenever he wants it.
Several years ago, officials in Shenzhen drew a small box on a map of the Western part of their city and proclaimed that it would be an international financial global mega-hub zone. Hong Kong officials, in their usual pathetic desperation to give Mainland counterparts face, traipsed up there to sign meaningless agreements on cooperation and partnership. Then, more recently, Beijing essentially told the uppity Shenzhen cadres that they weren't going to be getting any special privileges on foreign exchange or tax, so they should just forget the mega-hub zone scheme and go back to churning out fake Hello Kitty phones. And we assumed that was that.
But no. It's back. We can assume that this has nothing to do with Donald's imminent relocation to Shenzhen, but quite a lot to do with the arrival in Government House of CY Leung in just over a week. The Qianhai Shenzhen-Hong Kong Modern Service Industry Cooperation Zone has been given some sort of 'national strategic importance' classification. Among the ridiculous ideas being spouted by grasping Mainland officials and Hong Kong hangers-on:
Individual Mainland investors to be allowed to access Hong Kong securities markets via (of course) Qianhai (the old Tianjin 'through train' wall-of-money thing).

All Hong Kong's banks and brokerages, plus the stock exchange, to set up branches in (you guessed it) Qianhai.

Hong Kong Exchanges & Clearing to relocate its newly acquired London Metals Exchange to (yup) Qianhai.

Tons of blather about Yuan-denominated offshore/onshore sounds-like-money-laundering RMB hub zone blah-blah stuff, all taking place in (obviously) Qianhai.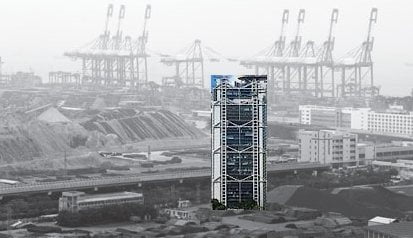 Qianhai, for the record, is a patch of concrete-covered wasteland up the road from a container port. Whether CY Leung will rush up to Beijing and beg the national leadership to exempt the area from foreign exchange controls and other tools of economic control vital to a centrally planned, one-party state is unlikely. But maybe they think it's worth a try.
For one thing, CY will be too busy sweating the small stuff. His proposed rearrangement of government furniture failed to continue its tortuous progress through the Legislative Council yesterday. The Standard describes lawmakers who should have been there to help him but weren't as 'pro-establishment'. Which they are – but as we see, that doesn't mean pro-CY. Functional constituency representatives like Timothy Fok and David Li are yesterday's men, but supporters of the Henry Tang old guard will remain on the scene for some time. Meanwhile, the pan-democrats (with a few exceptions) are too inept to see the obvious opportunity that CY's alternative 'establishment' offers them.
CY is making it known that his priorities on taking office will be housing, housing, welfare and housing. A populist doesn't need a Culture Bureau to do that, and he should just get on with it. What will his approval ratings be on the day he goes round to some impoverished family in a subdivided slum to help them pack their bags and move out?
That's after he's removed his illegal structure, of course. I knew he was human.
As the Hong Kong Tree Team trundles through my neighbourhood after hearing rumours that a large woody perennial exists in the area, I declare the weekend open – with a gasp of disbelief as I find some vile boorish oaf of a cad is daring to question the saintliness of handsome and virile Wikileaks founder Julian Assange. Is there no end to this heresy?