To some commentators in Britain, Hong Kong Exchanges & Clearing's takeover of the London Metal Exchange is part of a diabolical plot by Communist China to control or manipulate the world's commodities markets. Or it is a last vestige of Victorian imperial might falling into the hands of the awakening Oriental superpower. At the very least, there is something unfair about it; while HKEx is free to buy the London company, the reverse would be impossible as the Hong Kong exchange is in practice run by the Hong Kong government and is off-limits.
Seen in a global context, it is yet another example of Asia buying up everything in the bankrupt West. From a regional point of view, the transaction means that Hong Kong has sprinted ahead in the race (apparently one is in progress) to become Asia's number-one throbbing and dynamic commodities trading hub and overall international financial centre. Visionary leaders will be especially miffed in Singapore, whose stock exchange's attempt to merge with its Australian counterpart was rejected last year by Canberra on grounds of national interest.
For us in Hong Kong, the response is more along the lines of "You paid how much?" GBP1.4 billion? For a company that made GBP7.7 million last year?
Like the MTR, the airport, the Mortgage Corporation, the panda bears of Ocean Park and even in many ways the Jockey Club, HKEx is one of those de-facto state entities inhabited by the finest minds Chief Executive Donald Tsang can find among his exclusive circle of favourite best friends. It is a milieu of bureaucrats, loyal businessmen and dependable hangers-on like the ubiquitous Ronald Arculli, self-important and basking in the greatness of their organisations as if government-granted monopolies, aid or protection had nothing to do with it.
HKEx's people claim success in being the number-one centre for initial public offerings in the world every year. It would look better if Shenzhen weren't in third position; with the listing of China Inc in full flow over the last few years, they couldn't fail. Note how they can't find a way of de-listing penny stocks, reducing trading spreads or sorting out their lunch arrangements. Since the Mainland IPOs won't last forever, the HKEx folk have been scurrying around such benighted places as Mongolia and Kazakhstan in search of listings glory. Hugely over-paying for a trophy acquisition in London – being taken for a ride by the sellers, in other words – sounds all too possible. If the deal goes ahead (some concerned Brits are still worrying about corporate governance at HKEx, namely the technical possibility of Beijing's interference via the Hong Kong government's control), it will be something to remember the Friends-of-Donald old guard by in the years to come.
Not everyone is concerned about GBP1.4 billion. Over in another corner of quasi-public-sector-land, fury breaks out over 10 cents…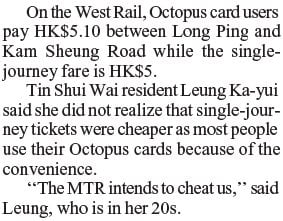 In other words, you pay 10 cents less if you pay cash to buy a ticket. The MTR PR person puts it down to 'different methods used to calculate fares'. So when the MTR calculates its fares, it does so twice: once for passengers who pay cash and once for people who use an Octopus card. All is clear.
On an especially heart-warming note from the hard core of the public sector, the Hong Kong Police in Yuen Long are recruiting ethnic minorities to spread peace and love and understanding between majority residents and brown people (whites and Japanese are 'expatriates' and thus rich, law-abiding and unobjectionable)…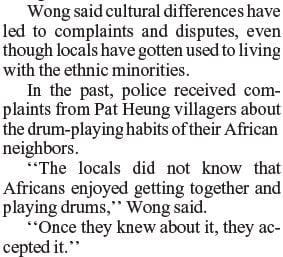 Who can fail to be impressed by such tolerance? Those bongo-banging Congolese who have become such a familiar feature of life in Hong Kong these days are loud. I look forward to other noise nuisances being dealt with the same way:
"I wish to complain about my neighbours drilling holes in their apartment wall/playing ear-splitting disco music/torturing cats at 2 am."
"Thank you for your enquiry. Upon investigation we determine that your neighbours enjoy getting together and drilling holes in their apartment wall/playing ear-splitting disco music/torturing cats at 2 am."
"Oh is that so? I never realized. That's OK then – they're welcome to carry right on. Good night."