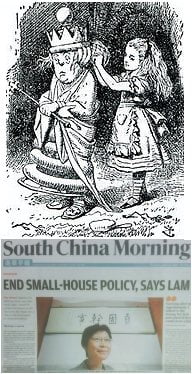 Like Alice's Queen, who could believe in six impossible things before breakfast, it seems Hong Kong is being invited to imagine something unattainable every day in the lead-up to CY Leung's arrival in office on July 1. Yesterday, we had ex-Monetary Authority boss Joseph Yam suggesting we ditch the dollar peg and give ourselves the nice strong currency we deserve. And today, Development Secretary Carrie Lam ponders the abolition of the New Territories indigenous villagers' small-house policy.
It is not the swiftest, most vengeful of abolitions that she has in mind. The career bureaucrat and (rumoured) Chief Secretary-to-be "sees an opportunity to propose an end to the policy in the next five years." Assuming that they take this 'opportunity to propose', our officials – or their descendants – would actually scrap the handouts of land for three-storey villas in 2047, thus ending it for eligible recipients born after 2029. But wait! There's more! She says: "the government may need to give something to villagers in return when the policy is ended."
In return for what, she doesn't say. My hunch is she means 'in return for not lynching every District Officer north of Boundary Street and not invading Central and burning it to the ground'. New Territories natives, represented by the mafia-like Heung Yee Kuk, have violently defended their 'traditional rights' ever since being colonized in 1898. Like the property tycoons, Beijing courted and cultivated them in the run-up to the handover in 1997, giving them an overweening sense of entitlement. But unlike the tycoons, a withdrawal of protection from on high doesn't perturb them: they don't answer to anyone on high in the first place. Carrie admits as much when she tells the SCMP it is 'hard to enforce the law' up there. This is buried away in the middle of page C3, but really belongs on the front page, not to mention in a stiff message to the Secretary of Security and in a report to Beijing…
In theory, the small (as in 2,100-sq-ft) house policy is a 1970s administrative decision that could be reversed with the stroke of a pen tomorrow morning. In practice, it is something the New Territories natives will fight to the death over. Originally designed to give poor farmers' sons a place to raise a family not too far from the pigs, it has become a meal ticket for life as beneficiaries rent out two, if not all three, floors (plus the extra unauthorized one).
Judging from her tone in the SCMP articles, Carrie sounds jolly pleased with herself for even mentioning the subject. Officials have swept the issue under the carpet for years, but they now have to consider non-indigenous residents' resentment of the aborigines' privileges. This came to a head with recent proposals to treat village illegal structures more leniently than urban ones, which led to that burning sense of injustice that flares up in Hong Kong when one group gets a benefit that another does not.
My favourite example of this was when the Mid-Levels Escalator opened. Operating in a downhill direction until 10.30am, it was of no help to the schoolgirls who walked up to Caine Road every morning. The students' need to make this daily climb, which had been going on for decades, suddenly became 'unfair'. However, the schoolgirls did not demand that the Escalator be dismantled. Most urban residents, on the other hand, would gladly pull the plug on the small house policy right now.
We might oppose the system because of the myriad abuses, the sexual inequality and its unsustainable nature as currently structured. But essentially we resent the basic principle that the indigenous villagers can get affordable homes. So why not extend the principle and allow every Hong Kong resident some space for personal dwelling – albeit in a high-rise – free of excessive government land/lease payment? (Of course this would be 'unfair' to existing apartment owners who overpaid; we would probably have to send some Mid-Levels schoolgirls to convince them to just live with it.)
In sum: scrap the bloated tax on homes via the high land-price policy that is imposed on everyone except lucky NT indigenous males. Maybe this will be tomorrow's impossible thing.