Switching on RTHK Radio 3 in the morning without knowing the exact time is a bit of a risk. The aim is to catch the 6.30 news in full, freeing me to get on with waking life by the time the 10-minute recitation of Italian soccer results starts at 6.50. Switch on too late, and I might miss something important or find myself plunged into the midst of a rant by legislator Emily Lau. Switch on too early, and my delicate dawn psyche is assaulted by the preceding show, which is presented by a DJ who sounds like he is on speed and shrieks about himself – frequently repeating every sentence – over pop tunes that are all in the same 2/4 time signature and tempo.
One day, I will take advantage of one of the many technological or horological solutions to this problem that I know exist. Meanwhile I just take my chances. This morning, the body clock is a bit late and I awake to hear former Security Secretary Regina Ip playfully assuring an interviewer she was not prepared to resume her old job, which we all recall she left under a cloud in 2003. However, the lady insists, she is in discussions with Chief Executive-elect CY Leung about a possible position in his administration.
She hints that this means a non-official seat in the Executive Council. Take a glance at the current unofficial members (scroll down past the ministers): Ron Arculli, Charles Lee, Lau Wong-fat, Anna Wu, one-meal-a-day fund manager V Nee Yeh, Marge Yang, and so on. They come in two flavours: shoe-shiners being given a pat on the head (the first three mentioned above), and tame, trustworthy 'moderates' willing to lend a dash of (relative) glamour, intellect or bohemianism to the line-up. Has a single one of them ever produced or even influenced a policy decision in their time 'serving the community' in this capacity under CE Donald Tsang? It's unlikely.
Things might be a bit different under CY, and Regina is not one to meekly agree with whatever the boss says – as we can well imagine, say, Ron Arculli doing. And a seat in ExCo could be a springboard to greater things; how long before we'll need a new Financial Secretary?
The names of two more ministers-in-waiting are doing the rounds. One is Ada Wong, Wanchai arts busybody of many years' standing, who is tipped for Culture Secretary. She is the sort of establishment-but-independent sort who maybe wouldn't quite have fitted into Sir Bow-Tie's mutual admirers' club of insiders. The other is 'green architect' Wong Kam-sing, possible Environment Secretary. He "lacks the necessary administrative experience," which is a promising sign: he's not a civil servant. Greenpeace, the money-crazed, anti-science, anti-capitalism theatrical group, also have misgivings. Even better. After the lackluster incumbent, anyone would be an improvement.
***** 
Great moments in photo-editorship (a.k.a. 'They thought no-one would notice')… Today's Standard carries this story about a rescue at sea off Lantau by a 'government helicopter'…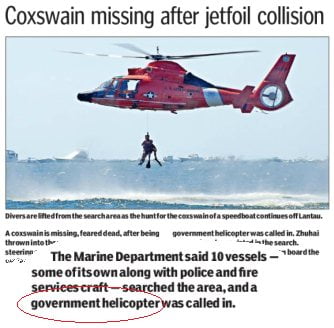 A look at the picture shows that it is indeed a government helicopter: a US Coast Guard Eurocopter Dolphin HH-65, to be precise. My expert in such matters guesses the location to be the Gulf of Mexico, owing to the flashy marlin-fishing boats in the background. My money's on Miami. Not Lantau, anyway.