Wild American friend Odell takes a sip of his organic tea tree oil and couscous cappuccino and taps at his iPad. We are in the Caine Road Starbucks, the one remaining coffee place for several miles around. First, the IFC Mall branch of Pacific Coffee closed to make way for the overpriced and tacky TWG pseudo tea shop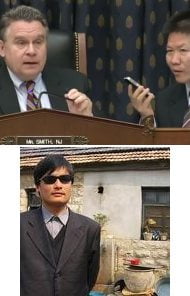 in which Mainland tourists can sit and think they're being cool. Then that chain's Lyndhurst Terrace outlet closed down to make way for a boutique selling giant perfumed candles to (we can only presume) people who have to buy a gift at short notice for a woman they don't like much. Then the Starbucks in the little street up from Queen's Road shut down and was converted in less than 72 hours into an authentic ladies' Belgian lace swimwear emporium for tea-sated Mainlanders. Humble caffeine-and-easy-chairs spots are being driven into oblivion by locust-visitors and inane high-margin luxury goods.
The lapsed Mormon is reading the news on his iPad. "Wow – that blind guy Chen phoned a congressional hearing in Washington DC. Live. On air. Amazing. He had a lot of requests."
Odell reads out activist Chen Guangcheng's wish-list. "A meeting with Secretary of State Hillary Clinton; an opportunity to thank Mrs Clinton; assistance from Mrs Clinton in coming to the US, with persecuted family; a chance to meet Bill Clinton; an hour throwing hoops with basketball legend Jeremy Lin… a ride in a fire truck with the siren on. Yeah, why not? I mean, think what this guy's been through. He's earned it."
At this point a striking woman in flowing burnt ochre and turquoise silk and a huge puce raffia hat strides up to us. It is Yummy Chow, noted food writer and critic. She sits down with a cup of tastebud-preserving warm water and gives me a gleaming grin.
"It's that time of the year again!" she announces.
I am slightly puzzled for a few seconds before it dawns on me. "Of course! The Worst Restaurant in Soho Award!"
"You've got it," she says. "And I think we might already have a winner."
Past holders of this much-admired prize, and runners-up, come to mind. Duke's Burger, with its HK$250 caviar-and-beef sandwiches. The dismal Soho Spice, with its quasi-Vietnamese fare. Countless insipid, cramped, pretentious themed concept dining experiences set up by beancounters who can't cook an omelet, usually closing two cynical years later when the landlord puts the rent up, only to be replaced by another off-the-shelf, cookie-cutter fake eatery.
"There's a new Italian place about to open," Yummy explains. "It's opposite where they've just renovated that Australian group's Thai grill, the one a few doors down from where the Nepalese-owned Argentine steakhouse just moved to, near where they're tearing down the deluxe pizza joint to put in the Australian group's Nepalese dumpling lounge."
"Yeah – I know it," Odell interjects. "Gonna be called Nico's." Yummy nods. Odell shows us some photos he took on his iPad. "It says it's gonna be a 'spuntino' bar." He looks at Yummy, who knows everything about everything where cuisine is concerned. "What the hell's spuntino?"
Yummy looks a bit awkward. "Ah… Well, it's a kind of meat. The spuntino is, um, a small, furry mammal that traditionally frolicked in the forests of Sardinia. But nowadays they're mostly reared on farms. Having said that, it's not eaten much these days, even in Italy – it's, uh, very much a poor person's food. I'm surprised anyone would open a spuntino bar in Hong Kong. That's why I think this place could be this year's Worst Restaurant in Soho winner. This is about as desperate as you can get."
Odell is Googling 'spuntino'. "Oh my freaking God!" he exclaims…