To China's communist government, everything that goes wrong has to be somebody else's fault. Tibetan riots? Foreign splitists. The party's Global Times is in no doubt of it regarding the country's latest weirdness. "The West has put all the blame on Chinese authori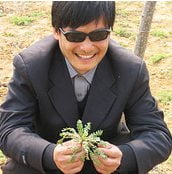 ties for the Chen Guangcheng issue," it complains. True: the assumption overseas is that Beijing essentially authorized criminal Shandong officials to beat and detain blind self-taught lawyer Chen Guangcheng after he tried to seek justice. Who else, simple-minded foreigners ask, would it have been in a one-party state where there can only be one source of legitimate power?
The newspaper corrects them. "Chen's case originated from the grass-roots disputes in Linyi, Shandong Province and evolved into a more complex situation under the interference of Western media," it says, describing the activist as a helpless tool of Western attempts to damage China's political system. What we thought were causes are in fact effects, and vice-versa. "Chen's case … will not undermine social stability, nor will it hinder the normal development and progress of China's human rights," it continues. "China's stability lies in its grassroots."
The Chinese government is now demanding that the United States apologize, presumably for masterminding the trouble-maker's sightlessness and Linyi's forced abortions from scratch. No wonder Chen is confused about what country he is supposed to want to be in. Meanwhile, searches on the Twitter-like Weibo system for such phrases as 'blind person' are banned. And, lest we forget, we're still waiting to hear more about Bo Xilai, Chongqing party chief and apparently torturer of businessmen and expropriator of their assets, whose wife allegedly murdered a British fixer and was last seen dressing up as a PLA general. And these are just the things we know about up there.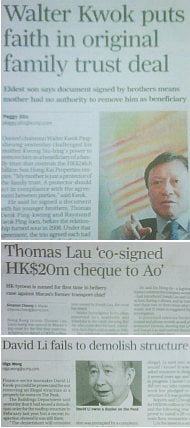 Closer to home, murky goings-on among our own elite are being ruthlessly exposed as a new regime prepares to pull the plutocrats from their pedestal of privilege and reduce them to shame and ruin. Or something like that. At least, it would have been hard (though not impossible) a year ago to imagine any of the three 'twilight of the tycoons' stories in today's South China Morning Post.
Walter Kwok goes to the press declaring his right to a third of the Sun Hung Kai Properties empire, whatever his old mother says. (Is lawyer Gordon Oldham involved? Shades of casino mogul Stanley Ho, who did a TV interview last year to fight his side in a family dispute about shareholdings.) This comes after the arrest of his two brothers by the Independent Commission Against Corruption. When PR people get involved, messy family affairs can be not only unpleasant and distasteful, but downright compelling.
Over in Macau, a city built on sleaze, Hong Kong property developer Thomas Lau is named in court as having co-signed a cheque for HK$20 million to now-disgraced graft-taking official Ao Man-long. And the heinousness comes to a crescendo with the revelation that Bank of East Asia boss David Li has still not removed his illegal structure. Several hundred thousand other Hong Kong property owners haven't either, yet the SCMP, the ultimate establishment organ, picks on just this one. The world turned upside down.