For the third day running, Hong Kong wakes up to find that CY Leung is still Chief Executive-elect – and mobbed by adoring crowds, to boot. And the truth gradually dawns that the city is returning to its customary trivial and banal normality. The big tough macho Privacy Commissioner issues an 'enforcement notice'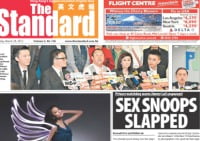 against two of publisher Jimmy Lai's gossip rags for printing photos of TVB 'stars' taken through the windows of their homes, enabling the Standard to declare 'Sex snoops slapped' – despite an absence of any real reproductive activity.
I thought the Privacy Commissioner existed to stop organizations like the MTR's Octopus Card selling customer data to scummy companies hawking such undesirable merchandise that it takes huge junk mail and other desperate marketing campaigns to sell it. But no. It seems they keep themselves busy by probing Google and, as now, decreeing the limits of the media's 'noble purpose of public scrutiny' by insisting that privacy is of equal value to freedom of the press. Which of course you would say if you're in charge of privacy.
This is not Rupert Murdoch News International-style cop-bribing and phone-hacking. Jimmy Lai's paparazzi photographed their targets from more-or-less public places, though the Commissioner maintains that the public would not normally be in those spots and would not normally use powerful telephoto lenses, so the people photographed would not expect anyone to be able to see them. It would be interesting to see how this would stand up in a real court as legitimate, if childishly prurient, exercise of a free press.
The 'victims' are personalities manufactured by TVB; they have groveled and done God knows what else to become TV stars, world famous from Yuen Long to North Point. Bosco Wong had no clothes on when he was snapped in his Fo Tan home. Vincent Wong and then-girlfriend Yoyo Chen were cavorting in various states of undress in a Tseung Kwan O apartment. Would there be such a fuss if the stars had been clothed and reading a book? Perhaps Jimmy Lai's real crime is to have exposed the performers' dirtiest secret: living in downmarket, unglamorous neighbourhoods.
It is traditional in these cases to point the finger of blame at the gossip magazines' 6.9 million readers for demanding such salacious material in the first place. (What would aliens from the Planet Zarg be thinking as they emailed their reconnaissance report back home? "Attached is a picture of male Earthling Bosco Wong. Other Earthlings pay money to see blurred asteroid-like photos of him in the nude.") But maybe Hong Kong's urban geography has a lot to answer for.
Our closely stacked tower blocks with windows required on three sides and convenient adjacent mountains make peeping-tom reporting more cost-effective than other types of journalism. If we lived in a flatter, more spread-out environment, the costs of photographing celebrities inside their humble curtain-less apartments would be far higher. Magazines would find it more profitable to publish in-depth investigative reporting on bear-bile farms, good corporate citizenship and sustainable energy. It's just economics.
And if you think Bosco in the nude is mundane, try this: Legislative Council committee spends 26 months and HK$1.57 million producing 479-page report on a highly forgettable lawmaker who fired an assistant whose name we never even learned in the first place for some reason no-one else thought worth mentioning. Oh for the days of Henry's basement.
Separated at Birth 1.  Bosco Wong (left) and an asteroid (right)…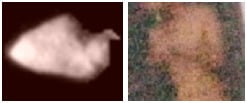 Separated at Birth 2.  Hong Kong Chief Executive-elect CY Leung (left) and French actor Louis Jourdain in the James Bond movie Octopussy (right)…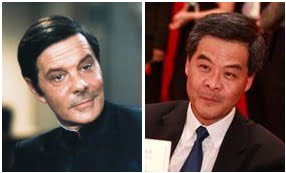 Jourdain, as we all know, appeared in the BBC's Count Dracula. And he refused to appear in Nazi films during World War II and joined the Resistance. Proof, surely, that carriers of the 'creepiness' facial gene have a hereditary predisposition to oppose dictatorship and tyranny.