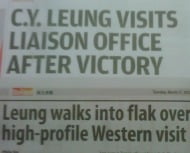 Just days after being rudely woken by Democratic Party lawmaker Emily Lau raging on the radio, we are dragged from our dreams this morning by another lengthy pan-democratic rant courtesy of Cyd Ho. Her complaint is that Chief Executive-elect CY Leung included the Chinese government's Liaison Office as he did the rounds yesterday of people you need to see after being 'elected' CE. By the time I am brushing my teeth, the Civic Party's Audrey Eu is also on air making a similar point, if less hysterically.
The pro-democrats' problem, it seems, is not that CY actually visited the Mainland officials who last Wednesday suddenly started calling up loyalist members of the Election Committee urging them to switch their votes away from Henry Tang. It was that he did so too brazenly and stayed too long. Or smiled too much. Or something like that.
Hong Kong's next CE is loathed by the property tycoons and the civil servants – the most parasitical and reactionary forces in the city today. If the pro-democrats had just a little common sense, they would surely identify a potential opportunity for some sort of constructive engagement with our new leadership. (In practice, some pro-democrats have professional or personal ties with parts of the anti-CY establishment, but let's assume for the sake of argument they are all politicians first and money-grubbing, radical-chic lawyers second.) Rather than declaring their enemies' enemy their friend, as all good cynics should, they have adopted their usual default stance of outright antagonism to whoever is in charge on the grounds that he is unclean and untouchable owing to the undemocratic manner of his selection. But is it simply ideological purity? It sometimes seems the thought of not opposing scares them.
It is unlikely that CY Leung will burst into tears because the pro-dems won't be his friend. In fact, you have to wonder whether he even realizes what a divisive figure he is. Nearly everyone in Hong Kong's political and business class hates everyone else today. The big boys who first declared support for Henry Tang last year have been left out on a limb after sticking by their man to the end – hoping no candidate would get a majority of votes. The timid shoe-shiners who dutifully followed them acted at least partly out of deference to (or fear of) CY's powerful pro-Henry enemies. Then they had to obediently switch sides at the last minute and vote for CY – leaving them looking and feeling like idiots. There is a lot of finger-pointing.
Henry Tang is leaving town for a few weeks. Who wouldn't? The poor guy is finished: the Chinese government will never forgive him for somehow managing to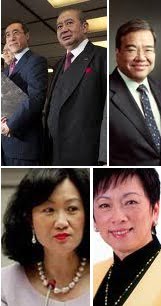 screw up an election rigged especially for him, nor for losing self-control in his final desperation to do CY down and apparently betraying information about confidential meetings.
Bank of East Asia boss David Li is left in the sad and unusual position of having backed the wrong guy and thus being an outsider. (He might adapt: his father served the British, the Japanese and the British again in the 1940s.) He has more bad news on the way: industry gossip has long held that he would arrange for his son to inherit his banking functional constituency seat in September's Legislative Council election, but it seems the Bank of China Group – a big bloc of votes – wants its own man in there.
Anthony Wu, the ultimate smug, insider Donald-man, heading up the Hospitals Authority, the General Chamber of Commerce and the Bauhinia Foundation think-tank pushing bureaucratic interests, would like to serve the new regime if it needs him. This raises the question of how inclusive CY will be. Outgoing CE Donald Tsang drew on a very small pool of sycophants to fill his multitude of advisory and other bodies. But there are 7 million people in the city, and a lot more talent than the previous self-styled elite would like to admit. So… maybe not Anthony, but thanks.
And this just in: the Liberal Party's Selina Chow accusing legislator and former Security Secretary Regina Ip of, well, lying in her attempts to re-ingratiate herself with the next administration. "Regina, you told me CY would hurt people." "No I didn't Selina." "Did." "Didn't." "Did." "Didn't." Slap, scratch, bite.
Just when you thought life couldn't get more amusing… The Chinese government may reduce taxes on luxury goods, thus making it much cheaper for the Mainland nouveau-riches to buy their designer-label locust-goodies at home. Hong Kong, we are invited to believe, is 'especially vulnerable'. Crack open the champagne!