If the New York Times says that Beijing has dumped the tycoons' choice in favour of a 'populist' as Hong Kong's next Chief Executive, it must be true. Yet this is a populist few seem to like.
Vintage pro-democrat Martin Lee claims appointment of the alleged card-carrying Communist CY Leung will violate the spirit of the Basic Law and endanger rule

of law. Former Chief Secretary-turned-democrat Anson Chan says CY is a chameleon who doesn't share Hong Kong's core values. The Civic Party's Alan Leong declares that CY sends shivers down his spine. The Democratic Party's Albert Ho warns that CY in power will be "ruthless … unscrupulous and reckless and may be bold enough to do many things."
Bold enough to do things? Gulp. If (and it is at least a medium-size if) Hong Kong is witnessing the toppling of its fundamentally corrupt coalition between parasitical tycoons and self-serving bureaucrats, the pan-democrats' complaints raise a couple of questions.
The first is: what did the pan-democratic camp contribute to this fight to break the tycoons' grip? The answer is nothing; they have spent 15 years getting nowhere towards universal suffrage while the property cartel and friends have been merrily plundering away.
The second is: how much are we willing to give up in terms of core values in exchange for having a fairer, less-feudal economic structure? Of course, there is no reason in theory why there must be such a trade-off. "You can have affordable homes provided you pass the Article 23 national security law" sounds illogical. So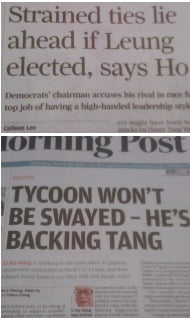 does, "You can have better help for the elderly and better health care provided you accept restrictions on press freedom." Yet that, the pan-democrats seem to imply, seems to be the deal, and we might hazard a guess that pullers of strings in Beijing's Hong Kong Liaison Office wouldn't see anything wrong with such realpolitik.
CY certainly frightens the tycoons and establishment. Mega-plutocrat Li Ka-shing will vote for Henry regardless of what Beijing's officials advise. Henry's former partners in the Liberal Party refuse to vote for CY – even if, ludicrously, they can't bring themselves to stand by the pitiful, philandering basement-builder. Former legislator Rita Fan echoes mutterings heard throughout the Big Lychee's 'elites' today about how CY will lack credibility in office (just as much as Henry would have – that's what they are reassuring one another, even though scandals and smears have left Leung far less damaged). Some still hope for a hung result and a fresh 'election'. This suggests that CY really does pose a threat to property hegemony, collusion and other evils.
Which is great. But what, if any, price will there be to pay in terms of the 'core values' that protect our rights and freedoms? The sensitivity surrounding Article 23 has made rational debate on the thing very difficult. Seen as a symbolic re-statement of existing laws against theft and violence in a national security context, you could say it is a bogeyman used by pro-democrats to frighten us all. Or maybe it really is a way to enable a clampdown on dissidents. And of course if the crushing of Hong Kong's un-Chinese liberties is so important, there are plenty of other ways to do it, bit by bit, here and there.
Yet Hong Kong people have a track record of getting very touchy when core values seem under threat; look at the backlash against poor CE Donald Tsang after his luxury jet trips came to light. Mainland officials might like the idea of 'integrating' our culture of protest and dissent out of existence, but they also want the Big Lychee to be basically untroublesome. CY, with an eye on victory in 2017, presumably feels the same.
His reputation as an authoritarian largely comes down to appearances. He got into Communist-ruled China in the late 1970s, when it was still extremely unfashionable, indeed suspect, to do so. It wasn't just eccentric but almost sinister. And of course he physically looks the part, with that austere demeanor and those creepy eyes. But the only firm evidence we have at hand is this list of insults about CY's supposed tyranny as Chairman of City University's Council. Either he turned the place into hell (as the document says) and the Hong Kong media failed to pick up on the outrage – or certain people didn't get their way on staff perks and department budgets and have been frothing at the mouth about it as only academics can. Who knows?
However – a valuable clue about the real CY has just come to light (so to speak). CY's team is cancelling an election rally tomorrow in Tsimshatsui. Among the reasons given is the weather, which they say is forecast as 'not good'. The Hong Kong Observatory, as of 10.15am, calls for above-average sunshine for the day. And the word is that every voter at the 'election' on Sunday will be issued with a string of garlic along with their ballot paper.