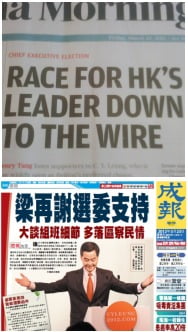 Perhaps unaware that Hong Kong has just undergone a sort of coup d'etat – or simply to try and keep the excitement going for another 48 hours – the South China Morning Post describes Sunday's Chief Executive 'election' as virtually too close to call, with a second round a distinct possibility.
The reality of this carefully rigged system is that Beijing can and will control the outcome, and that outcome will be CY Leung. There is a complication in that part of the Election Committee's inbuilt pro-Beijing majority is seething with resentment at this. The Inherited Wealth Spoilt Brat Sector, mainly the Liberal Party and allies, is in a fit of disbelieving pique at the last-minute tossing aside of Henry Tang. As former Education Secretary Arthur Li amusingly puts it, they are "acting like a group of children who don't want to play with him [Leung]."
However, Beijing knows full well that the Liberals' grasping selfishness and opportunism make them unreliable (such as when they pulled the plug on the Article 23 security law in 2003). The rigged system has enough built-in redundancy to do without them. After refusing to be drawn at any point in the campaign, the totally dependable Federation of Trade Unions has unanimously declared it will plump for CY. Its stable-mate the Democratic Alliance for the Blah Blah of Hong Kong will do the same later today. Then we have all those tragic folk like the Chinese Medicine Sector who, after complaining no-one had told them who to vote for, have now had this gap in their knowledge filled. Added to existing supporters, this probably gives CY a good 80% of the votes he needs.
The one danger is that people who don't much like either CY or Henry will abstain and CY's share of the vote will fall just short of a simple majority. The Liberals have been discussing the blank ballot as if it were a noble gesture. Mainland officials have responded by making it clear that not ticking a box is a dirty, unpatriotic trick and part of a pro-democrat plot. This is absurd, as the mainstream pro-dems have their own third candidate, Albert Ho, to vote for; but Beijing needs to patch the United Front back together, so (as with Tibetan unrest and so many other problems) it blames 'foreign forces'. The bottom line is that most of the Election Committee members tempted to indulge in the non-voting fad would, if they had a gun pointed to their head, dutifully tick the CY box. Here, in China Daily, you are looking down the wrong end of the barrel…
So, officially, the pro-Beijing camp is all one big happy family, with excited nonconformist supporters of CY, gloomy plutocrat friends of Henry, dullards who nod at anything, and hardline party automatons all joining together to confront the true enemy, the evil pan-democrat opposition. The truth is that some puffed-up, self-important 'elites' have lost big face in the last week, and they are bitter. That said, they are shallow and greedy and easy to buy off. It will be interesting, though perhaps ultimately a bit nauseating, to see how CY goes about meeting Beijing's wishes to get them back on board. Meanwhile, because stringing them up from lampposts is sadly probably not on the agenda, we can dream that Hong Kong turns on its tycoons.