Any hopes of drowsing in bed this morning are dashed when the Democratic Party's Emily Lau comes on the radio, waxing irate at full volume about Beijing interfering in Hong Kong's chief executive election. It is impossible to believe that, after all these years, Emily thinks the ritualized selection process is a real election or imagines that it is not rigged to produce the outcome earlier decided by the Central People's Government. The compulsion to rant overrides any logic.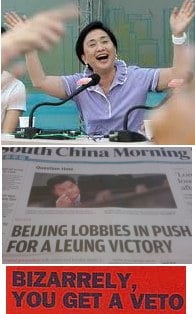 For the rest of us, Beijing's decision to finally put CE candidate Henry Tang out of his misery and tell its obedient supporters to vote for CY Leung on Sunday comes as a relief. Relief tinged perhaps with slight anxiety about what rule-by-wolf-man is going to mean in practice. But we can worry about that in good time. Right now, we have something to relish.
Beijing's last-minute oblique announcement of Sunday's winner is a long-overdue humiliation for the tycoons who backed Henry. Being summonsed over the border to receive orders is not unprecedented: in the late 90s, the big boys flew to Beijing to be reprimanded for bad-mouthing Tung Chee-hwa. But on this occasion, they have been very publicly taken down. After all our smug establishment elite's pompous strutting around with their automatic presumption that they pick the CE, they are suddenly swept aside as irrelevant. It is worth endlessly repeating: he who lives by the shoe-shine dies by the shoe-shine. The Chinese Communist Party has no permanent friends, and it will kick its most loyal supporters/groveling sycophants in the teeth with all the empathy of a psychopath when circumstances require it.
Hong Kong's pro-Henry tycoons will devise a face-saving narrative to explain what has happened. Their candidate turned out to be disappointingly unlucky, being caught with the sort of extra-marital affairs and basement problems any of us could have had. And to make matters worse, he tragically failed to articulate his rights and immunities as a holder of great inherited wealth at all convincingly. The damage was blown up out of all proportion by trouble-making newspapers that go too far or are out of control. Another problem was that factional struggles in Beijing sent confusing signals, though this is little consolation to a feudal caste to whom identifying and kowtowing to the right emperor-in-waiting is a primal instinct.
It would be too much – indeed, probably rash – to hope that the new administration will take a swift hatchet to the cartels (it might be better for it to decimate some senior civil servants first).  But the bad blood between the CY camp and the plutocrats who loathe him is real. All the bowing and scraping in the world cannot eradicate it, and even a bit of uncertainty is uncomfortable to our entitlement-minded tycoons. What they will not admit as they nervously ponder the future, because the implications are too awful to contemplate, is the deciding role played in all this by the Hong Kong people. They had a veto, and – lo and behold – they used it.