The South China Morning Post treats readers to another double-page spread of Chief Executive candidate blather, this time with the three individuals asking each other questions. The answers (with one exception) are as Propofol–like as you would expect. The questions are more telling.
CY Leung successfully highlights his two rivals' weaknesses. He invites Albert Ho to provide an example of the sort of economic illiteracy befitting of Hong Kong pro-democrats, and is duly obliged with twaddle about expanding the Convention and Exhibition Centre. And he skewers Henry Tang's claim to good relations with civil servants by citing the Mike Rowse case (when Henry the accountable official, his wife perhaps being unavailable at the time, publicly offloaded blame for some tediously obscure wrongdoing onto a bureaucrat).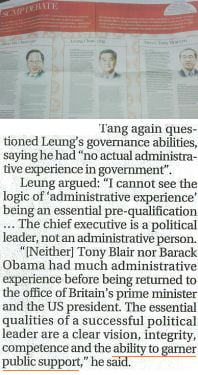 Albert Ho, given a rare opportunity to put the two 'serious' candidates on the spot about, say, housing or health care or the fiscal reserves, has to blow it with some mind-numbing question about functional constituencies. The FCs are a means by which Beijing can guarantee a veto in the Legislative Council; a fully independent legislative branch would be incompatible with a one-party state. Neither CY Leung nor Henry Tang could do anything about it if they wanted to.
Henry barely deigns to ask Albert Ho anything, but he tries to highlight one of his own perceived advantages by demanding how CY could be Chief Executive without administrative experience in government. To his immense credit, CY replies…
I cannot see the logic of 'administrative experience' being an essential pre-qualification for the office of the chief executive…

The chief executive is a political leader, not an administrative person. He leads with vision and provides direction to the government and the community. He is supported by a team of political officers who in turn rely on the civil service to implement government policies. Senior civil servants are experienced administrators…
This is the first time I can remember anyone saying this. It seems to be taken for granted in Hong Kong that you must have administrative experience to lead.
Partly, it's a way to keep non-bureaucrats at bay. A few years ago, there were two candidates for head of the Equal Opportunities Commission. One was the boss of a charity – charismatic, articulate and very clever (and of humble origins and physically handicapped). The other was a civil servant. No prizes for guessing which one got the job, and what the official excuse was. (As it happened, the bureaucrat went native and turned into a proponent of gay marriage, education for brown kids and other outlandish stuff.)
But the assumption you must have something called 'administrative experience' is also part of the Big Lychee's cult of credentials. Google the phrase alongside Donald Tsang's name to see how entrenched the idea is. CY has someone on his team who questions things. No wonder he scares people.
A similar widely held notion in Hong Kong is that hard work is the secret of success. Good exam results and sparkling careers result from grueling, grinding effort and little else. Today's Standard, in one of its half dozen or so shoe-shining items, attributes the rise of one Miranda Kwok to the top of one CCB (Asia) bank to 26 years of it.

Personally, I find it more impressive when people achieve through guile and wit and having fun and goofing off as much as possible, especially when it comes to the tedious stuff. I seriously empathize. Do what you enjoy and hire people with 'administrative experience' to do all the rest.
In US Democratic Party primaries for a couple of decades, candidates all went around loudly proclaiming how they weren't going to mention Chappaquiddick – the scandal that made Ted Kennedy unelectable. The equivalent buzz word in Hong Kong is, of course, 'basement'. Disappointingly, the word does not crop up in the SCMP's little debate. To redress this omission (and with thanks to Ms Lillian Court), I am delighted to present the Jesters – they had to be called that didn't they? – and their long lost foot-tapper, 'Down in Uncle Henry's Basement'…