China's next leader calls for a bit of calm in the Big Lychee after its spate of Chief Executive 'election' smears and mayhem. The thought that the wrenching pain and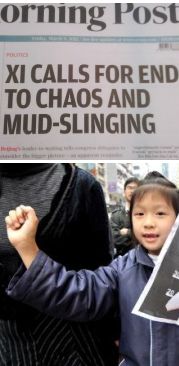 humiliation of recent months will now come to an end naturally causes widespread dismay among the general populace. But even if the outbreak of leaks and mud-slinging now subsides, we can be sure that things will not be the same again (as with a certain other epidemic that struck the city this time nine years ago).
You know things are strange when you find yourself nodding with agreement while reading a Trotskyite on-line journal. But who can dispute that "A succession of scandals has left no doubt about the culture of corruption, lying, law breaking and cronyism surrounding Hong Kong's pro-Beijing political elite and the business tycoons they serve"? Amusingly, China Worker gets mightily upset at the allegation that CY Leung is a socialist (which is not, to them, a slur). Mostly, though, the publication's reading of events is eminently sensible. The unprecedented hostile split in the local business establishment probably reflects jostling for power within the Chinese leadership. Disgraced Henry Tang remains a contender to be next CE because Beijing is clueless about what to do. The paper is also confident that Leung's backers were directly responsible for setting off the first bomb – the basement revelation – if unaware that it would trigger such an explosive chain-reaction. And they engineered Donald Tsang's 'luxury' outrage for good measure.
On a scale of zero (colonic irrigation) to 10 (curing cancer), pondering the exact provenance of Hong Kong's recent well-planned and well-timed exposés probably comes in at around 2 in terms of social usefulness. But it is irresistible fun.
I was with a small group investigating the issue in ridiculous detail yesterday. We agreed that local traditional patriotic groups – most sitting avidly on the fence awaiting word on whom to support – would only get involved in anything like this if they were told to. Minor players with personal grudges, like Henry's disgruntled ex-colleagues or dumped girlfriends, wouldn't have the means.
The problem with pointing the finger solely at CY Leung's associates (in practice, it would be unseen associates of friends of associates) is that it underestimates the gravity of attacking Beijing's clear favourite.
In principle, such a move is an attempt to derail the Communist Party's plan for leadership succession in the Chinese Special Administrative Region of Hong Kong. Thwarting the will of the one-party state is tantamount to subversion. You are taking control (even if only of choice of CE) out of the hands of the party and exercising it yourself. In theory, anyone in Hong Kong seriously trying such a thing could forget about setting foot in the Mainland for a very long time. Whether your faction's supporters in Beijing end up in power or not, you have crossed a line and cannot be trusted.
So, even assuming that CY personally would not have endorsed such chicanery, well-intentioned but misguided local supporters doing so must still have had some sort of reassurance from the Liaison Office, out there near The Henry in distant Western.
One group of possible culprits that we quickly dismissed were bureaucrats. They wouldn't want to destroy Henry's chances because they are far more comfortable with the prospect of a pliable dimwit than the radical, reformist alternative of CY Leung. But then, after beer three (or four, or something), I came up with a scintillating scenario…

Picture a coterie of serving and former senior officials secretly meeting up at Anson Chan's place around a year ago. Dame Conscience herself is in the chair. David Akers-Jones has curtly sent his regrets. As individuals, they are self-consciously a bit detached and aloof from the tycoon-bureaucrat milieu that increasingly runs Hong Kong. Snotty about it, in fact. They are nostalgic for the old days when the Civil Service was God, ruling over all, showing favour to none. They can't bear to see Beijing planning to give us another five or even 10 years of this erosion of the 'traditional Hong Kong values' they cherish, as landed interests get their claws deeper into the administration and public respect for government declines accordingly. They hatch a revanchist plot.
They have all the dirt on Henry, connections in the media and, collectively, decades of experience of practicing dark arts discretely. Knowing that CY is way too creepy to be a Plan B, their aim is to besmirch Henry with several devastating revelations that leave Beijing with no choice but to look to another civil servant for the top job (one who's well-bred and went to university and doesn't think it's cool to hang out with riffraff tycoons). At first the plotters are thinking of easing a trustworthy minister-level official like Carrie Lam into the position; later, as Beijing appears to stick by Henry thick or thin, they would be happy with Regina Ip. But they have misjudged which way the Chinese government will lean if it has to budge. It is not to be. In the final scene, CY Leung personally marches the Handbag Gang onto a Gong An truck, which trundles off to the border. (In the movie, Anson would be played by Meryl Streep and Carrie Lam by Dodo Cheng.)
I declared this weekend open last night.