Apart from me, my amah and the next-door neighbour's pet cat, it seems everyone in Hong Kong has now allegedly been smeared by Chief Executive candidate CY Leung's team. If inoffensive, mild-mannered pro-Beijing stalwart Tsang Yok-sing gets mud flung at him, is anyone safe?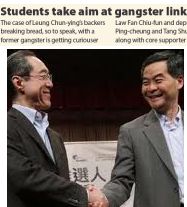 The mud, predictably, is thin and watery. And we can say the same about the attempts at negative campaigning mounted by CY's rival Henry Tang's camp. The Great West Kowloon Corruption Scandal looks decidedly feeble, as does the Fanny Law Gangster-Infested New Territories Dinner Outrage. However, the latter – while undeniably desperate – looks more professional: the naturally pro-Henry New Territories godfathers trick CY's people into dining with bad elements, the media make a fuss, and next thing Henry is asking for police protection from triads and whining about how CY is undermining our core values. Before you know it, Hong Kong University students are spending funds protesting what the press are calling CY's gangster link.
Last-ditch smears can work, and it looks like they could be Henry's only hope. There are 10 or so days to go; Beijing seems to have been struck dumb, some of Henry's nominators are quietly starting to regret backing him, while his hard-core fans are loudly forecasting that a third of Hong Kong business will evaporate under CY.  Now all we need is someone to start a rumour that CY Leung was really born in Kenya.
As with the birther movement in the US, anti-CY sentiment is a broad spectrum, stretching at one end into parlous states of mental health. A hard-working local politician has received evidence of this, as no doubt have all sorts of people and organizations with public contact details. Behold 'Peter Wong', Chief Commander, Overseas United Front Work System of the CPC Central Committee; Chief Representative, Advisor, Central People's Government Central Military Committee; Founder Director, Overseas General Office of the CPC Central Committee. No less. (Complete with yahoo.com.hk email address. There is, so far as I can see, no 'Overseas' General Office – just a plain regular one in Beijing, which oversees party discipline. The mailing address is a – probably non-existent – 4/F.)
The titles and names vary but, in essence, he has been tasked by the highest authorities in China to save Hong Kong (and Taiwan and the Mainland) from the evil forces behind CY Leung. What seems to have tipped him over the edge is the Apple Daily suggestion that Vice President Xi Jinping favoured CY. Fans of deranged mouth-frothing in the context of elaborately constructed fantasy worlds will find his (English) output here and here, and some Chinese with rough translation here, with the world's most amazing 'cc' list at the end. Unless, of course, he and his colleagues are for real (or someone has a warped sense of humour). A little light reading while we're waiting for something sane to happen.