Before being edited, the Hemlock Time Out HK feature on evil, grasping tycoons mentioned each of the Big Lychee's four big property kings' 'silliest development name'. In truth, they were plucked at random; nearly all real estate projects have ridiculous branding. For the curious, they were…
Cheung Kong's Li Ka-shing

: Vista Paradiso (Ma On Shan)

SHKP's Kwok brothers

: Yoho Midtown (Yuen Long)

Henderson's Lee Shau-kee

: La Botanica (Xian)

New World's Cheng Yu-tung

: Chateau Regalia (Beijing)
Occasionally, new towers' names look not so much drug-induced as just unfortunate. You are cordially invited to a launch party this Thursday to celebrate this phenomenon. "Where the Good Life Begins … the Ultimate in Lifestyle … Living it up with The Henry". Serviced apartments; way down Des Voeux Road West.
And now a word from our sponsors: The Bow-Tie Privilege Card, courtesy of RTHK's Steve James. Which brings us rather neatly to the continuing saga over Chief Executive Donald Tsang's links with tycoons.
The latest episode takes a further twist concerning a members-only 4,000 sq ft luxury suite at a Macau casino, apparently booked by Sir Bow-Tie's then-student son. The deal, we are told, is that you either gamble several million, in which case the place is free, or you pay HK$20,000 a night. Donald's 'palling around' with gambling moguls meanwhile gets a mention in CasinoLeaks Macau, a (Nevada labour union-funded) website aiming to highlight the sleaziness of Las Vegas's main global rival. We can only sigh at the tackiness of it all.
These people are NOKD: the more unpolished, unsavory end of the business community. The New York Times says that "a small circle of tycoons now runs top levels of government" in Hong Kong, yet Donald's jet-owning friends are the comparative riffraff who are not in that circle. Didn't he realize why they were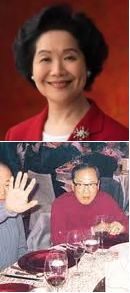 so nice to him? Maybe his humble origins are coming back to haunt him. It's hard to imagine former Chief Secretary Anson Chan getting carried away with the idea of a ride in Charles Ho's yacht. Dame Conscience, with her oldish money and arty relatives, would have put down the phone with distaste and dabbed some Pak Fah Yeow onto her cheeks with an understated silk handkerchief to recompose herself. Donald says "ooh yes" and ends up wearing a Joseph Lau-style, tight, polo-neck sweater like some thug's boss in a movie based in Shamshuipo.
And so a final intriguing word which may or may not pertain to the selection of Donald's successor from property agents Savills: "The Henry redefines lifestyle accommodations in the City." Not before the Buildings Department has issued a permit, we hope.