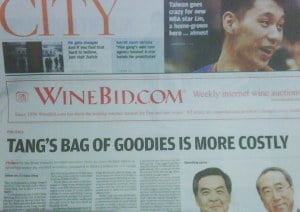 Another day, another juxtaposition of wine-related advertising and news about oenophile Chief Executive hopeful Henry Tang in a newspaper. And another pitiful, whiny, defensive press release from the Hong Kong government trying to save some face after its dismal attempt to smear Henry's rival, CY Leung.
Someone in Tamar Palace must know that the more you issue an official announcement insisting that official announcements are truthful, the less convincing you sound. But then, the statements are not designed to convince us of anything; they are sent out so a long-suffering, jaded underling who is past caring can tell his panicky boss that a decree declaring the administration innocent is now in circulation, and the populace is thus convinced. (Indeed, the clumsiness of the smear effort looked almost deliberate, as if some civil servant's distaste for the task got the better of him.) It's the same with the blaring commandments about drug driving, looking after your grandparents' teeth and not using water from fire hoses for non-firefighting purposes: a bureaucrat is satisfying an official that the 'publicity campaign' box has been ticked. It's nothing to do with us, the public. We are not the intended audience – which makes the material oddly compelling, and perhaps of potential use in some sort of Zen therapy.
The pro-CY forces of course retaliated with the Henry Tang illegal structure scandal. Henry's supporters – the Sing Tao group cheerleading – now counterattack with correspondingly vacuous accusations of family ties between CY and his pals at Ming Pao. The son of the paper's editor's grandfather's second cousin, they allege, is Leung's brother-in-law, or something. This is not an election race: it's an inanity contest. The city looks on in awe.
Meanwhile, it is now possible to lay out the two supposed candidates' policy proposals side by side and do a sort of comparison…

It is as if both have been dealt the same hand of cards. One has irrelevant government reform A, the other matches him with irrelevant government reform B. One has mildly populist help for the elderly A, the other has mildly populist help for the elderly B. Both offer 75,000 new public housing apartments, though Henry has raised his opponent 10,000 extra Home Ownership Scheme units. Under pressure from the cellar-under-the-pool outrage and the polls, Henry is having to pull a few extras out of his sleeve: abolition of appointed District Council seats, something vague about maximum working hours and (yes, we're desperate) five new public holidays. It's taking a lot more last-minute script-changes than expected, but otherwise China's first quasi-real competitive election-type process with added authentic public opinion is more or less going to plan.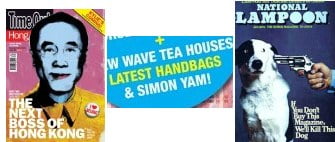 On more serious matters…
It gives me great pleasure to recommend the latest issue of Time Out HK magazine, not least because it contains a 4,000-word Hemlock opus on the Big Lychee's most humungous and wealthy super-businessmen. Who they are, how they got rich and, in particular, how the grasping parasitical scum are squeezing the lifeblood out of you 24 hours a day. Oh – and how our government, when it's not looking the other way, runs around actively helping them do it.
Mindful of the oppressive financial burden imposed on the Big Lychee's people by the tycoon-cartel system, Time Out's management are charging a highly reasonable HK$18 for this publication (plus you get some stuff about trendy artists and teashops – and latest handbags! – thrown in at no extra charge). Available at all fine bookstores and newsstands; photos of it on sale at Park N Shop will be gratefully received.
And what can I say about the cover? It's not a cover – it's a headbutt… 
Guaranteed to make you want to roll the mag up and beat an octogenarian billionaire to the ground with it – or your money back.
Update … It will be a day late, apparently. Technical reasons…