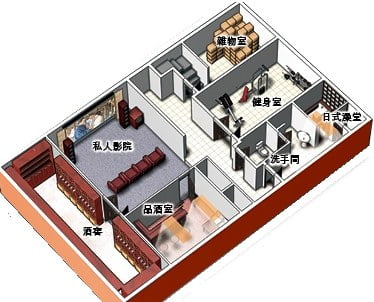 Owners of illegal structures the length and breadth of Hong Kong are overcome with both envy and admiration on learning that Chief Executive aspirant Henry Tang's
'cellar' is – if the rumours and leaks are true – a 2,400 sq ft luxury subterranean citadel-den. Excitable newspapers offer artists' impressions showing an unauthorized sacred river running through caverns measureless to man, or hundreds of uniformed men preparing to launch a laser weapon into space to blackmail the world.
Actually, it looks more than a little vulgar: a gym, a home theatre, a 'Japanese bath' and of course the wine stash – next to a tasting room (no doubt with copies of Asian Golfer and a black leather Bang & Olufsen spittoon in the corner). Drawing on every ounce of his clueless rich-kid dumbass persona, Henry is good-naturedly brushing it off; work on the basement has been going on for years, all handled by some other family member, the Buildings Department will sort it out, and so on. If he had esprit, he would defiantly assert every free man's right to build a basement downstairs provided it harmed no-one else, but alas it won't happen.
All we need now is the rumoured photos of illegitimate offspring to make their long-awaited appearance, and Henry's hopes and dreams will lie in pieces. Or so many chatterers would like to think.
He has long set his heart on being CE (no-one who saw it will ever forget the look of stunned grief on his face that day nearly seven years ago when we all learned Donald Tsang was to replace Tung Chee-hwa at the top). And he has shown, through his rather carefree approach to such campaign minutiae as policy platforms and debates, that he assumes the job is his. With nominations underway, and no obvious substitute available, Beijing and Hong Kong's pro-Henry establishment have little choice but to tough it out. The South China Morning Post suggests that Mainland officials have passed word to the tycoons to keep their heads down and not publicly back Henry. Nature – the Communist Party's nature, that is – will take its course, and that stuff about public opinion tossed aside. Like a cancer scare, a fleeting vision in our mind of CY Leung taking power should jolt us into acceptance.
Meanwhile…
With such bizarreness going on, it seems only natural that the aptly named Time Out magazine vanished yesterday from store shelves and display racks. So far as I can gather, an 'erroneous' version of the February 15 edition – omitting material that could be construed as critical of tycoons – mysteriously appeared briefly in a few stores and then disappeared. Keep it for posterity and eBay if you got one.  (I think I've been reading the 'erroneous' version of the SCMP for years.) The 'correct' edition – complete with the Hemlock tycoon feature – should be out today. I've no idea what's going on, but maybe someone of an exceptionally nervous disposition got cold feet. Or perhaps it's all an elaborate stunt to create buzz and generate sales, in which case I fear raised expectations. We shall see. As I said yesterday, photos of it in Park N Shop would be a delight. (Or anywhere…)