…to ward off the Monstrous Mainland Mother Menace
Problem: Mainland mothers are making ever more determined efforts to give birth in Hong Kong to qualify their kids for an eventual ID card and residence rights. Hospitals now have quotas to limit Mainlanders' deliveries, and pregnant women from over the border without a booking may be intercepted by immigration officials and turned back. To get round this, some mothers-to-be enter Hong Kong before the bump gets too obvious, hang out in an illegal apartment-hostel for a while, then turn up at the public hospital emergency room after contractions begin. This endangers them and their kids, and – more to the point for angry Hongkongers – increases pressure on medical services and taxpayers' costs, especially when the rascals run off without paying the bill.
Non-solutions: Hong Kong's Basic Law guarantees residency to all born in the city. Changing this would be difficult politically and practically. (Amending the BL – a Chinese law – would legitimize Western-style rule of law and lose the Communist Party face. Chinese-style 'interpreting', under which we would be invited to believe drafters really meant to exclude Mainland babies all along, invites ridicule. Besides, the accumulation of Mainland residents in Hong Kong seems to be a policy of Beijing's.  There would also be problems with discriminating against fellow Chinese vis-à-vis overseas nationals living here.)
Refusal to hand over the birth certificate without payment of fees – and perhaps of some sort of deterrent fine – is, I am reliably informed by a lawmaker who suggested it, not possible for some constitutional or legal reason that escapes me. Lame politicians like Chief Executive hopeful Henry Tang offer silly ideas like barring the mothers from Hong Kong for two years, as if that would make any difference.
A real solution: I hereby solve the problem neatly and vividly in three simple steps.
1  All un-booked, potentially bill-skipping Mainland babies shall henceforth be impounded (what's the phrase – taken into care?) by the child welfare and social services people straight after the nurse severs the umbilical cord. The grounds for this are that any woman willing to risk her and her child's well-being by staggering in after her waters break is unfit to be a parent.
2  The newborn children will be offered up for adoption (maybe we could charge the new parents a fee to cover the costs of the delivery and the repatriation of the unfit mother). Local families would get priority, but most of the kids would no doubt go to those slightly creepy but no-doubt well-intentioned Americans who hanker after a Chinese baby to dress in cheongsams and teach Mandarin.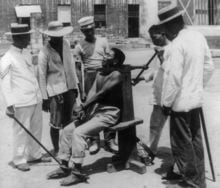 3  As word of the new policy spreads extremely quickly, watch the illicit mothers vanish overnight, and the pressure on our hospitals noticeably lessen.
Tomorrow I will solve the problem of illegal parking in Central through selective – and in practice relatively rare – public garroting.
Comments will be cleared eventually…