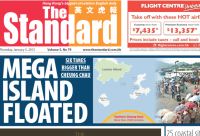 "Chuck a few really idiotic, huge reclamations into the publicity material too, to scare the dolphin lovers and all that lot." So, presumably, went the instructions to the folk at the Civil Engineering and Development Department who compiled the proposals on land supply released yesterday. Hence today's Mega Island – six times bigger than Cheung Chau headlines.
The presentations are here (rationale) and here (maps).
This needs to be seen in the context of Hong Kong government infrastructure and planning policies, which essentially revolve around transferring public wealth to construction interests, hence all the several hundred billions worth of pointless road, bridge and rail projects currently underway. To justify these huge giveaways, officials assume that trends like the rise of the Pearl River Delta export manufacturing machine will continue, even though they are clearly peaking.
In this case, we are invited to believe that by 2039 Hong Kong will have 30% more households than today, totaling a population of 8.9 million, and this will require an extra 45 sq km of land, only 43% of which will be for residential use. We are also expected to conclude that much of this land must come from reclamation. After pondering the awfulness of, say, attaching sprawling housing estates and freeways onto cherished patches of Lamma coastline, we are then supposed to look at the smaller-scale reclamation possibilities (on 'artificial or disturbed shoreline') and think they are OK.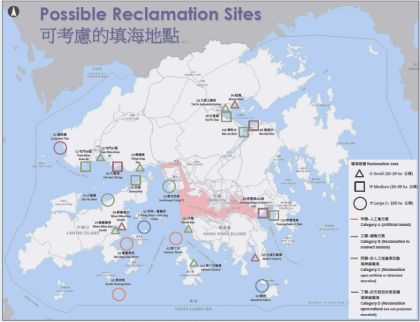 Population forecasts, especially by Hong Kong officials, are invariably wrong. Chief Executive Donald Tsang, CY Leung and others warn of under-population one minute and floods of Mainland babies and Filipinos the next. One thing the 8.9 million forecast does not seem to factor in is the possibility of outward migration. A few tweaks to welfare and health policies could easily induce hundreds of thousands of elderly to move to cheaper and nicer places on the mainland in the coming decades, just as the elderly move out of London or New York.
The assumption that we will continue to use land the way we have been doing in the last few decades is also questionable. Will an older population need the same proportion of commercial buildings and roads as today? Will the container ports still be in business, and in their existing locations? Will trucks and containers still clog up the New Territories? Will the Transport Bureau still be prioritizing private car use?
The most obvious ways to free up land – rezoning, resumption and redevelopment – are all ruled out because… they involve private owners. What is the problem? That the additional value created will not end up in official hands? That the government will have to transfer funds to people who don't own huge construction companies? That the government might have to face up to the New Territories mafia? That the confusion of property rights and redevelopment rights, and the artificially inflated price of land, all make it administratively simpler to spend billions filling in the sea, when we have dozens of square miles of usable space zoned for non-residential use or masquerading as country park?
Worst of all, there is no mention of my pet reclamation project: evict Disneyland.
The private sector has no problem with reclamation. The space between the main towers of Exchange Square and the smaller block known as the Forum has always been an oasis in Central – a rare place where passersby have been allowed to sit, and with Elizabeth Frink's water buffalo for company. Perhaps as a forewarning of a bear market, in recent days the sculptures have been crated up (below, middle right) and the seating area has been sealed off…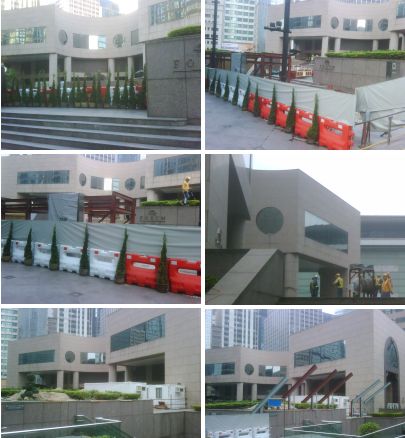 A bigger building, yielding more rent for Hong Kong Land, will follow. It will, no doubt, be a plain box, avoiding all the nasty, sunlight-enabling inefficiency of its predecessor's curves…