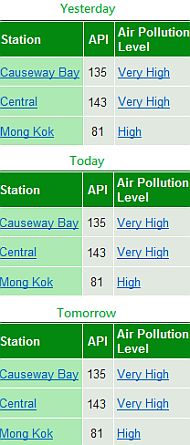 If the air seems significantly cleaner and healthier today, it's because the new law against idling engines has come into effect, and the amount of pollution clogging up our streets and lungs has plummeted. Except, of course, it doesn't.
The law was a cop-out from the start. The way to clean the air is to pretty much ban all cars and trucks from the urban areas from 8am to 8pm so Central, Causeway Bay, TST etc are 90% pedestrianized during daytime. But this is Hong Kong, a constitutional dictatorship where nothing can happen without a near-total consensus. The government came up with an elaborate bit of legislation carefully crafted to make virtually no noticeable difference – and then allowed it to be watered down until it ended up like a homeopathic medicine, with no measureable number of molecules of the original active ingredient remaining.
Originally, the plan was to require all parked vehicles to switch their engines off. It wouldn't have had any effect because no-one would either obey or enforce the law. Drivers would keep their air-conditioning switched on, and our educationally subnormal traffic wardens would drift unseen in their own little parallel universe, with their eyes closed and mouths agape, as ever.
Still, vested interests had to object on principle. School busses with precious little kiddies in them were exempted. People parking for less than three minutes were exempted. Over-65s were exempted. Taxi drivers with a note from their doctor were exempted. People with family names starting from A to G and M to T were exempted on Mondays, Wednesdays and Fridays. And so on, up to the point where only eight drivers are actually subject to the law.
On a brighter note, the Hang Seng Index will hit 25,000 next year, according to a headline in the South China Morning Post. This could solve the quandary faced by many small investors at the moment. Do you get out of the market on the grounds that the next couple of years could be a re-run of the early 1930s, even though valuations look low? Or do you stay fully invested and ride out the next couple of years because valuations are so low? Most people are half-in, half-out. The Euro might implode and China's debt-driven, investment-in-tofu-projects orgy might end in collapse. Or, on the other hand, they might not. The SCMP forecast comes from China Construction Bank. For all I know, they might be very wonderful and perceptive people. But then again, on the other hand, they might not.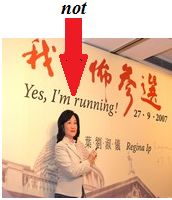 At least we can be sure of one thing: legislator and former Security Secretary Regina Ip will not be taking part in the coming make-believe election for Chief Executive. Approximately 6,999,999 people knew this already, of course, but yesterday she drew the same conclusion and finally added herself to their number. On the radio this morning she lamented that she wouldn't have had anything like enough support from the tycoons and sycophants in a position to nominate her. But in 2017, she said, they might think otherwise because, knowing that we would all be voting in the subsequent election, they would want to nominate someone we would all like. Something like that. It cheered me up, anyway.
I declare the two-day rehearsal for the 24-28 December holiday open.