The mood on the Mid-Levels Escalator this morning is one of calm resignation. Hong Kong's industrious and uncomplaining middle class may or may not be on the verge of calamity as Europe's visionary cheese-eating surrender currency collapses and some rich-kid half-wit prepares to play at governing the city. Their mortgages are largely paid off, their portfolios are overweight in cash, and their kids are already in the right elite kindergarten – what more can they do?
I decide to break the ominous silence by asking my neighbours, Mr Chan the investment manager and Ms Woo the marketing manager, a brain teaser: "What do Canadian singer Celine Dion, Indian musician Ravi Shankar, former Irish Minister for Agriculture and Food Joe Walsh, British author JK Rowling, American film director David Lynch, Panama's ex-dictator Manual Noriega and Hong Kong's former Chief Secretary Anson Chan all have in common?"
The pair look slightly puzzled, but not much – as if whatever the answer is, it cannot be very interesting. For example: they've never been to the Moon.
"Here's a clue," I add, pulling an invitation card from my pocket, "Self-effacing Bank of East Asia boss David Li is about to join them…"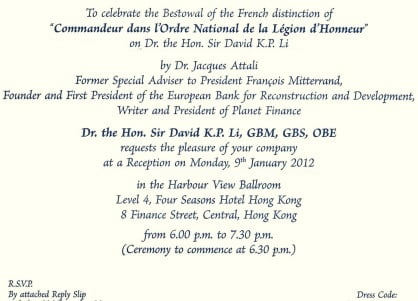 "I suppose," I continue, "it's in recognition of his contributions to, er, philosophy, the cinema, literature or maybe neurosurgery – who knows?" Looking through the whole list, you really have to wonder about the French and their rather promiscuous approach to venerating foreigners. And the rank within the Legion de Honneur that Dr the Hon Sir Li JP is being awarded is Commandeur, not just your riffraff Chevalier or lowly Officier.
Mr Chan takes an envelope from his jacket. "Yes, I've received one of those invitations," he says. Ms Woo pulls one from her puce Louis Vuitton handbag. "Me too – came yesterday. One for everyone in the family."
We are gliding through the rat-infested nether regions of Soho when wild American friend Odell and his Thai wife Mee join us on the world's most amazing urban transport infrastructure. Recognizing a couple who do not fit into the higher echelons of society when they see them, Mr Chan and Ms Woo melt away behind a group of early-rising Japanese tourists.
"Jeez – I thought I'd worked out a really neat way of getting the retard staff in Starbucks to serve up an organic gingko biloba and oil of tendaberry cappuccino in less than 45 minutes," the ex-Mormon excitedly tells me. "Bribe 'em with one of these!" He shows me an invitation to Dr Sir the Hon Duke Li's investiture. "We got half a dozen each. The Starbucks kids could hang out with this Dr the Hon Admiral Sir David Li, the President of Planet Finance and the guy who looks like a horse. Like really high-class, right? But, um… like, they weren't interested."
Mee shows me her collection of the invites. "They already have," she explains.
A Filipino maid approaches, pulling a basket on wheels. Mee, a former domestic helper with permanent residency through marriage – thus of a less lowly echelon of society – slyly holds her prestigious high-society invitations where the minion will see them and be duly impressed. But as the girl passes, we catch sight of the shopping list she is clutching, a familiar-looking 6-inch by 4-inch cream card, with a dark blue italic request for the pleasure of her company at a January 9 bestowal on the reverse.