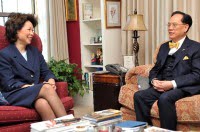 Hong Kong's Chief Executive Donald Tsang, in case anyone was wondering, is dragging his footstool around my beloved former home, Washington DC. According to the government press release, he has dropped in on the 'renowned' Heritage Foundation, perhaps to congratulate them on their recent anti-Motherland tract South China Sea: It's Not Beijing's Lake.
The free-market think-tank might have enjoyed hearing Sir Bow-Tie's enthusiastic cheerleading for China's 12th Five-Year Plan, but for some reason he saved it for the wishy-washy liberals over at the Brookings Institution. Under the Stalinesque decree commanding the world's second-biggest economy, Hong Kong is required to serve as an international financial centre – which by luck we already are – with a production target of 20,000 metric tons of IPOs a year by 2015.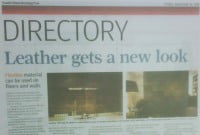 The local press inexplicably fails to give the CE's US trip much coverage. The Standard finds the election in San Francisco of a mayor who once studied in Hong Kong more compelling, while the South China Morning Post proposes that we line our kitchen walls with tiles made of leather. A logical extension of the use-the-whole-animal culinary movement, perhaps?
It seems only a few weeks ago that hordes of pale, friendless-looking people were standing in line for days in order to be one of the first to buy whatever Apple gizmo it was, and now they're back again for another one. So valuable are these latest items that you can instantly re-sell them at a 20% mark-up, and not surprisingly entrepreneurs are hiring impoverished maids, African refugees and specially trained border collies to stand patiently in the queue outside IFC Mall. My suspicions that Apple boss Steve Jobs faked his own death grow stronger still.
One problem is that the line of gizmo-addicts is becoming tangled up in the long crowd of the caffeine-dependent that stretches into the distance from Pret a
Manger. There was a time when there were three coffee/beverage/snack places in that strip of the mall. The juice place Mix closed, to be replaced – if I recall – by the shop that sells espresso machines and pricy capsules endorsed by that grey-haired actor who represents all those other products. Now Pacific Coffee has closed its doors, shortly to reopen as the Franco-Singaporean TWG Tea Shoppe (est. 1571). (Curious how the remorseless pursuit of higher rental per square foot nonetheless follows a liquid-refreshments theme. Is this the Sun Hung Kai estate managers' idea of irony?) So Pret a Manger is now besieged by office folk all demanding their hot brown watery fix from the only remaining outlet for at least 200 yards around, not counting the poky little Starbucks in Exchange Square.
It can't be long before Pret a Manger is forced to give way to an up-market store selling exclusive, gift-wrapped, Olde Worlde gold-embossed, diamond-studded cookies as eaten by George Clooney, with a customer base comprising Imelda Marcos and the Mugabe family. Then, just as coffee-deprived zombies are about to start sucking the blood of full-time Apple-queue agents, an outbreak of SARS, US protectionism or the final disintegration of the euro will come to the rescue, empty and bankrupt the designer-label emporia, and return the mall to the cheapish and cheerful-ish shopping centre God surely intended.
On this optimistic note, the weekend is hereby declared open.