Inedible cuts of meat and a surly Afrikaner assistant manager at Japanese eatery Roka in Pacific Place bring out the exquisite best of Target founder and editor Raymonde Sacklyn's inimitable restaurant reviewing style.  
The capital letter, 'R', also stands for RUBBISH! 

And that, in TARGET's opinion, is, exactly, what one gets at ROKA Restaurant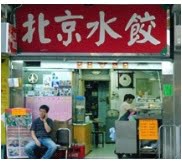 What would Sacklyn make of the Beijing Steamed Dumpling Shop in Austin Road, Tsimshatsui? Stroll too fast, and you would go straight past it – except anyone with a modicum of alertness will automatically stop to admire the lamb pancakes in the window. They will squeeze their way in and find somewhere to sit. The place has four four-person booths and a little folding table with three stools. On my visit, an appropriately severe Hard Stare convinced the book-reading intellectual hogging an entire booth to himself to retreat to the latter.
The button mushrooms [at Ole Spanish restaurant, Ice House Street] were, clearly, sautéed, either by a Chinese or a Filipina/Filipino cook who determined not to prostitute his/her art by bowing to the requirements of Spanish cuisine …

Lastly, this had to have been the oiliest paella in the history of Spain.
From left to right here: pork and pickled cabbage dumplings (made in the corner by the Beijinger owner); two variants of lamb pancake (one with leek), lamb of course being an abhorrence to the Cantonese; and seaweed soup perched behind hot and sour soup with congealed pig's blood, perhaps to help Hongkongers get the taste of wooly ruminant out of their mouths… 
If this restaurant [Manzo Italian Steak House, Times Squae] continues to sell half-rotten meat, even USDA Prime beef that smells and tastes as though it were fermented bean curd (腐乳), it will not last the season.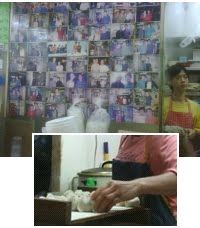 The lamb pancakes are the main reason to come to the Beijing Steamed Dumpling Shop. Generous amounts of tasty, tender meat in a fairly light pastry. Maybe half of the output goes out the door in the form of take-away. Like all good, tiny, hole-in-the-wall food places, the cheerful owner has covered a wall with photos of himself posing with hundreds of celebrities you've never heard of (plus the inevitable tiresome TV culinary genius who claims to have tried human meat – his picture is in every diner in the Pearl River Delta). Order recklessly enough and two ultimately very stuffed people can rack up a bill for HK$150, and leave with leftover dumplings to take back home to fry, as recommended by Mrs Owner.
Or we can follow the action-packed gastronomic trail blazed by Raymonde Sacklyn and savour not the food but the reviewing skills…
The location of The Pawn Restaurant, at Number 62, Johnston Road, Wanchai, the Hongkong Special Administrative Region (HKSAR) of the People's Republic of China (PRC), is perfect. It faces a very large rubbish dump which abuts a concrete playground and the sounds of Wanchai, with its drunks, pimps and prostitutes lend colour to the listed building that houses The Pawn …

The risotto resembled Scottish porridge, made of rice instead of oats.