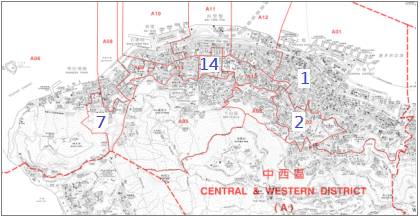 The battle for seats on Central and Western District Council ahead of next Sunday's election inflicts collateral damage as every mailbox on my side of the street gets mistakenly blitzed by leaflets from Wai Pui Shuen, Candidate 1 in Chung Wan Constituency (Constituency 1) – the boundary of which runs along the middle of the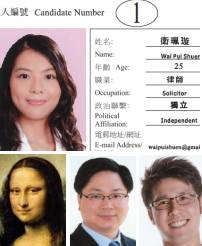 road. Although she will not be on the ballot up here in the rarified Mid-Levels East (Constituency 2), residents see her banners every time they stroll down the hill into her territory, and they cannot help but be intrigued by the vacant gaze, the enigmatic, Mona Lisa-like smile, and the overall mildly zombified look.
I am grateful to Mr Webb for unearthing a little trail that leads us to an explanation. Ms Wai the 25-year-old 'Independent' and solicitor (of barely two months) has an email address as Winnie at Sidney Lee & Co law firm. That firm is run by Sidney Lee Chi-hang, who is running to keep his seat representing the grimy but gentrification-bound Centre Street neighbourhood (Constituency unlucky-number 14). His bio reveals that the government has given him various third-tier baubles of recognition in the form of membership of property tribunals. His sole opponent is a trendy 1980s-born free-thinker called Wong Ho-yin who has seen the light about Hong Kong's wretchedly damaging and unfair land system and is endorsed by the pro-democracy Civic Party.
The Centre Street area (First, Second, Third Street, etc) will before long have an MTR station and even a mini-Escalator. It would be pleasing to think that its upwardly mobile residents will decide to cast out their closet pro-Beijing councillor at some stage – maybe next Sunday.
Back in Chung Wan, Wai Pui Shuen's chances are hard to rate. Like many candidates in the area, especially those pretending to be independents rather than pro-Beijing, she has bland ideas about the Mid-Levels Escalator. The Democratic Party, which won last time in 2007, is being challenged by one of the more radical People's Power types, who are bent on damaging the DP's chances simply to punish them for doing a deal with Beijing officials about constitutional reform last year. If Ms Wai wins, it will be because the more extreme pro-democrats let her – a pattern that may be repeated elsewhere. Some District Council members will be returned to the Legislative Council on a city-wide at-large basis via universal suffrage in September 2012, so the radicals are in practice helping the pro-Beijing camp here.

Nonetheless, they are sworn enemies. The most interesting race in Central & Western District will be in Constituency 7: Kwun Lung, over in the remote far west of Kennedy Town. This is the District's token (1960s) public housing estate area, and will host an epic conflict between two legislators, veteran pro-Beijing loyalist Ip Kwok-him GBS, JP and Trotskyist firebrand Leung Kwok-hung, or Longhair. Ip is the incumbent and won more votes than any candidate in the District last time round. He was humiliated once, in 2003 when voters threw out pro-Beijing council members in the wake of Tung Chee-hwa's Article 23 debacle. If Longhair can't pull it off, no-one can. (And, probably, no-one can.)
Meanwhile, the hunt for totalitarian leftist elements pretending to be harmless bourgeois citizens continues.