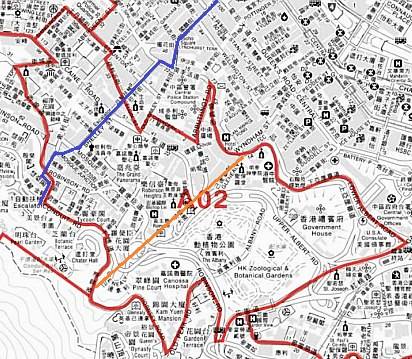 As the map indicates, if you throw a stone in many parts of Central & Western District's Mid-Levels East Constituency, it will land in an adjacent electoral area. It transpires that the person I thought would be my 'Candidate 1' in the District Council elections next Sunday is in fact on the ballot on only one side of my street. The candidates I can choose from are this scintillating line-up on the leaflet from the government election office.
Candidate 1, Jackie Cheung, is a lawyer and is the current representive of our eccentrically-shaped Constituency on the District Council. He is known in my building because we use his ward office for our owners' committee meetings. His broadly bilingual blurb describes him as 'independent and nonpartisan' and mentions his plans for local transport, including extensions to the Mid-Levels Escalator – his favourite campaigning spot.
Candidate 2, Chan Pui Yi, is a 23-year-old student and puts 'independent' as her political affiliation. Her (all-Chinese) platform covers public sitting-out areas, trees, owners' committees, buses and handrails; she particularly worries about the poor lighting on the aforementioned Escalator.
(The world's most amazing bit of urban transport infrastructure is the blue line on the map above; the area southeast of the orange line is largely uninhabited – Botanical Gardens, Government House, the US Consulate – so the bulk of voters live within walking distance of it. The Constituency should really be called Escalator-Land.)
Things get interesting with Candidate 3: Wilheim Tang, burly 'community officer' and member of the Democratic Party. To him, Escalator affairs are for cissy candidates. Instead, his blurb decries the fact that the neighbourhood is currently represented by someone rarely seen by residents and who does the job only part-time. The English summary stresses that Wilheim will be a full-time Councillor.
Wilheim's tatty Xeroxed election leaflet stuffed into everyone's mailbox is even more assertive. "Warning!" It announces (sadly in Chinese only). "Some candidates are not what they seem … 'independents' may not be independent, and 'democrats' may not be democrats." Silhouettes of a man and a woman bear the respective legends "Really independent?" and "Suddenly a democrat?" It ends by urging voters to vote for the Democratic Party's candidate and oppose 'royalists' – the pro-Beijing lot.
Jackie Cheung is, judging by all the photos of him hobnobbing with Democratic Alliance for the Betterment of HK folk, part of the pro-Beijing camp. They often run as independents in neighborhoods away from the public housing estates and Mainland immigrants that provide the DAB with their unworldly support base. What Chan Pui Yi (Tracy, according to her email address) has done to deserve the suggestion that she is a phony I have no idea. The United Front wouldn't want a loyal pro-Beijing person standing against another. Maybe she once crossed swords with pro-democrats in some obscure student-politics battle, or maybe Wilheim is throwing mud at anyone who even remotely threatens to thwart his lust for power. Negative campaigning at the tender age of just 29 – shocking. How can I resist voting for him?
Although all are on email, none of the candidates seem to have websites. This may be because the election regulators have essentially said that candidates will be breaking the rules unless they report every activity on their Facebook or other such sites in the same way they have to submit copies of each leaflet or poster they produce. It is possible to see this as an attempt to tilt the election odds in favour of the pro-Beijing camp, by hampering candidates more likely to be popular among younger, technology-using, worldly voters. It would be a drop in the bucket of institutionalized election-rigging in Hong Kong.
Then again… It is no less possible that the bureaucrats drawing up the guidelines are genuinely such mindless, robotic implementers of procedure that they consider subjecting websites to the same regulations as roadside banners perfectly normal.