Not one, but two, meetings make this morning an exceptionally busy one by my relaxed standards – I normally have this many per month. As it happens, both touched on the Great Henry Versus CY Fight that Hong Kong would like to believe is going to take place.
The first meeting involved a bright-eyed and politically aware member of our city's youth. Neither a radical post-80s firebrand nor a member of any pro-Beijing United Front groups, he would be the sort of young person our pro-democracy parties would recruit if they came down to planet Earth. He is part of a loose grouping of what might be called moderate-activist peers, which in turn is in very informal contact with two other groups, one mainly of college-based 20-somethings and another of professional 30- and 40-somethings.
It would have been hard to imagine up to even a year ago, but he and many of his buddies are rooting for CY Leung. The reason can be summed up in one phrase: property developer hegemony. Hong Kong's rising GDP, he explains, has been soaked up by higher housing costs and rents, leaving the ordinary people no better off than they were 10 years ago. Only CY will put a stop to it.
The second meeting was with a minor-league tycoon with enough modesty to admit that despite good Beijing connections he hasn't a clue what they are thinking up there. Still, he reckons, the only reason China's leaders have not looked upon CY Leung favourably is because of the man's creepy image and lack of popularity in Hong Kong. In principle, if CY really took the public opinion polls by storm, Beijing could yet pick him for next Chief Executive.
Add these two meetings together, and it suggests things could get interesting.
Or maybe not.
Many believe that the property tycoons, who hate Leung, have the power to effectively veto him. This is probably not the case these days, when the plutocrats need Beijing far more than Beijing needs them (as it seemed to in the final years of British rule in Hong Kong). However, there is a much vaster establishment class that is relying on Henry Tang to take over from its great friend Donald Tsang next year so its members can continue to wallow in the fat, smug, pompous comfort zone 12 years of shoe-shining and patronage have granted them.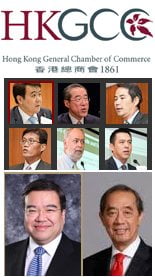 The archetype of this milieu would be Anthony Wu, chairman of the sprawling public-sector Hospitals Authority, and of the slavishly pro-government Bauhinia Foundation 'think-tank', and of the HK General Chamber of Commerce (once a business lobby but now infiltrated by bureaucrats and corporatist interests and loyally supporting every government policy it can), and apparently of Henry Tang's 'campaign' team.
Plus all our other favourite cronies, advisory committee appointees, medal recipients and heads of purposeless semi-public organizations; think Bunny Chan, Ronald Arculli, Allen Zeman, Norman Chan; think the Tourist Board, the HK Mortgage Corporation, the Trade Development Council, the Stock Exchange, the Airport Authority, the MTR. And let's not forget the current and former senior civil servants tying the whole web together.
CY Leung is an outsider to this self-selecting, self-perpetuating empire of mediocrity that has every interest in maintaining the status quo. CY does have an image problem – a Communist problem and an authoritarian-streak problem – and these folks will be more than happy to add to it both here and further north (where they are generally sensitive about Hong Kong's hang-ups on these subjects).
It would be great to be wrong, but the CY-takes-Hong Kong scenario simply feels too good to be credible.