The mood on the Mid-Levels Escalator this morning is one of balmy indifference to just about everything. It is 7.45, and not one, not two, but all three 7-Elevens between Soho and Queens Road have still not had the South China Morning Post delivered. But life goes on. The building on the corner between the 'Ivan the Cossack' Russian restaurant and Lyndhurst Terrace – home of the old Flow second-hand bookstore – has been evacuated and is soon to come down, to be replaced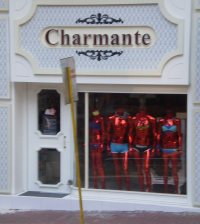 no doubt by an oversize monster tower of chrome and glass, housing shops selling perfumed candles, hand-crafted luxury stationery or perverted swimwear like the one a few doors up. There is nothing anyone can do.
And for how much longer will Yuet Yuen Restaurant, purveyor of fine congee to the neighbourhood gentry for countless decades, hold out? It is virtually the last family owned eatery – or retailer of any description – for miles around. In the corner, I find delectable Administrative Officer Winky Ip setting her Blackberry alongside her noodles on the Formica tabletop and scrolling through her messages. "Oh God," she mutters. "It's that time of the year again. The annual meeting with the Nigels and Brians."
Seeing that I have no interest in knowing about it, she carefully explains. "They're a bunch of men – Westerners, mostly. British, I suppose. They're… How can I put it? They're very pleasant, polite, well-spoken, clean. And just incredibly dull."
"Let me guess." I reply. "They're on expatriate contracts, have mousy wives from back home whose parents were shopkeepers. Two kids doing averagely at an international school. They golf."
"God – you know them!"
"No, no, it's a type. They're usually engineers with the MTR, airline pilots, actuaries – precise, unwittingly pedantic, devoid of creativity. And, yes, boring. Why are you meeting them?"
Winky tells me how every year this group of perpetual 12-year-olds insists on putting forward a proposal for a Formula One race track in Hong Kong. And every year, she says, the civil servants thank them and say they will think about it.
"Wrong response!" I tell her. "What you do is this. You get the runty one with a mustache – there is one like that, right?"
"Um, yes."
"There always is. You point at him and ask 'how big is the apartment you live in?' Then, when he says 'Over a thousand square feet' you tell him that the average family in Hong Kong lives in just 450 square feet, and when he moves his wife and kids into a place that small, and if he still thinks a huge race track is a neat use of space, he should come back and see you."
"But I live in a thousand square foot," she says.
"Yes, but you're not asking for a Formula One race track."
"Oh, right, I see."
Are our civil servants getting more and more dense by the day?
It seems supplies of the SCMP won't start dribbling through into this part of Central until later in the day (like in Shanghai, where it gets delivered at 4pm, except they don't cut bits out here). So I flick through the Standard, and to my delight I behold a glimmer of hope. A little gleaming chance that the Hong Kong we all know and love lives on.
A teenager died last year – or tragically died, as everyone does these days – after throwing himself from the sixth floor of his high school. At the inquest now underway the distraught mother, who blames the school, expressed her grief and anguish with unforgettable, heartbreaking passion: "My son was 17 when he died. He would have been eligible for the HK$6,000 cash handout [by the government] had he lived." Who would want to be anywhere else?
I declare the weekend open.