The great Brown Peril scare continues as the Hong Kong government submits an affidavit to the courts ahead of the judicial review over foreign domestic helpers' claim for permanent residency. Give Filipino maids who have lived here for seven or more years the right of abode, the statement claims, and you could end up with 400,000 extra people flooding the city, half of them demanding welfare. This is wild guesswork (though it's not a bad rough summary of the impact of Mainland immigration over the last 15 years); maybe officials have given up caring about their own credibility.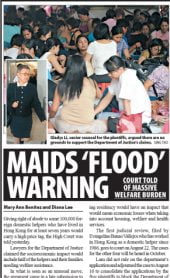 Could it be that the government, aided by its vote-mongering supporters in the Democratic Alliance for the Betterment etc of HK, is stirring up racism and alarm as a way of diverting people's attention from the abysmal failure of nearly everything else it does? This would, in fairness, bring it into line with just about every other government on the planet at some time or another. Or is it wetting itself about a theoretical inundation of dark-skinned hordes because blind panic is its default reaction to almost anything?
It would be interesting to know what has made the DAB so interested in this issue. As the local front of the Chinese Communist Party, it follows orders rather than sets agendas. It pushes the interests of the local less-educated working class, insofar as these are compatible with its higher cause, and stresses nationalism and disdain for the sort of cosmopolitanism common among the pro-democracy middle class. But it has also been quite successful at cultivating ethic minority (poor/non-white non-Chinese) voters in districts like Tsimshatsui – for example, pushing for school places for Nepalese and Pakistani kids just a few days ago.
One possible explanation for the government-DAB scaremongering is that the case offers an opportunity for another 'interpretation' of the Basic Law, by which Beijing hands down an expedient new meaning that disregards the wording of the mini-constitution. But this sounds like a conspiracy theory; while the idea of eroding Western-style rule of law as an end in itself excites some pro-communist elements in Hong Kong, it discomforts the bureaucracy and business community, and arouses hostility among the media and public opinion.
The idea that Beijing is getting agitated about the prospect of an influx of non-ethnic Chinese into one rich, southern, largely autonomous city also sounds a bit far-fetched. Not that the Central People's Government is in favour of diluting Han populations, but with train disasters and rebellious colonies in Tibet and Xinjiang to deal with, it must come low down their list of priorities.
It is hard to avoid the conclusion that the Frenetic Filipino Freak-out Fright of 2011 simply comes down to racism. An Asia Sentinel article, apparently adapted from a Philip Bowring column in the South China Morning Post over the weekend, highlights Hong Kong's particular hang-up about darker-skinned Asians. Examples include a continued official alert against travel to the Philippines for no reason, and horror at the very idea of hiring badly needed nurses from that country.
Colonialism probably deserves some of the blame here. Many decades ago, the Chinese were second-class citizens in Hong Kong, and – as in the Mainland – there is still something of an inferiority complex. The elite feel inadequate without Jockey Club membership, appointment as Justice of the Peace or other idiotic British baubles. The underclass, like the white trash in the UK or the US, need someone to look down on, and Third World maids are ideal. The prospect of legitimizing these people and letting them compete in the workplace provokes hostility because of insecurity. Filipinos might have more than just an economic edge on local counterparts. The real fear is not that maids' relatives would come over and claim welfare, but that their relatives would come over waving fancy nursing degrees and other credentials, leaving Hong Kong's dropouts and rejects in the dust. Racial superiority meets humiliating truth.
The last place we would expect a breath of sanity is the Hong Kong edition of China Daily, but we do more or less find it courtesy of an op-ed piece by Lingnan University's Ho Lok-sang. He essentially proposes a calm and colour-blind approach to the possibility that maids may qualify for permanent status. The government has considerable discretion over who gets right of abode and over which relatives can join them, he says, and it should not be too hard to devise guidelines and quotas that allow us to absorb reasonable numbers of productive and useful people from the pool of maids who have been here for seven years or more. Voila – problem over.
(All this assumes that the courts will find in the maids' favour. There seems to be little reason to suppose they will.)