The South China Morning Post reports serious, potentially tragic news about the state of the new Legislative Council building when it opens in October…
Something will be missing from the new Legislative Council headquarters when lawmakers move into it over the summer to prepare to start the new session in October.

Three of the four artworks that were to have decorated key spots in the building will not be ready in time, so pieces will have to be borrowed or bought to fill the blank spaces.

The council had invited submissions from artists for the four works. But with "quality issues and practical difficulties", Legco president Tsang Yok-sing said yesterday, "only one planned project can be installed in our new building before … October".

That will be a metallic piece entitled People showing humans performing different actions, to be installed on a wall facing the main escalator.

A piece that involved installing neon tubes into a circular pillar had met practical difficulties that could obstruct maintenance, while no satisfactory ideas at all were found for the main entrance.
Where do we start? Neon tubes in a circular pillar meeting practical difficulties that could obstruct maintenance? We can't have that. No satisfactory ideas for the main entrance? As a taxpayer, I am dismayed and indeed shocked. How will our lawmakers hold the executive branch to account without being surrounded and inspired by objects of beauty?
I won't labour the point, but this does seem like an excellent time to continue the highly restrained, discreet, low-key publicity for the Homage exhibition of photographic collages, which opens on the evening of Thursday, 12 May at Zee Stone Gallery, G/F, 1 Hollywood Road (opposite the old police station). After one week, the exhibition moves a few doors down to the gallery's showroom for a further three weeks.
The prints are in limited signed editions of 10. The deal is: HK$1,000 for the smaller ones, HK$2,000 for the big ones (before framing), with all proceeds going to the Chi Heng Foundation.
An invitation to the opening…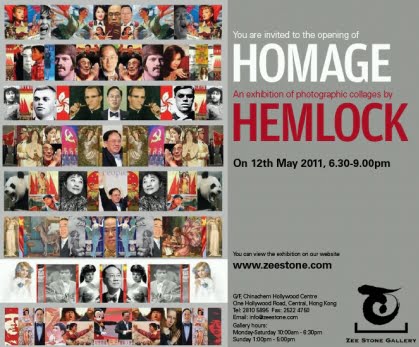 Works titled Not Neon Tubes in a Circular Pillar (left) and No Practical Difficulties that Could Obstruct Maintenance (right)…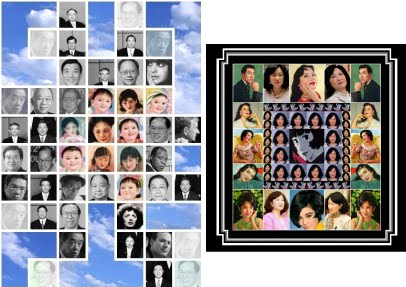 And one called Satisfactory Idea for Main Entrance…