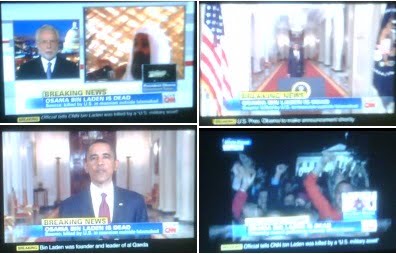 Yesterday was the second time this century I switched on the TV news to watch a specific story. The end of the battle of competing narratives draws closer. One day, people will look back at the death-cult Islamist threat to civilization of the early 21st Century in the same way we now see the bomb-throwing Anarchist scares of 100 years earlier.
But the Democratic Party of Hong Kong will still be a bunch of ridiculous idiots. Of all the measures in the budget announced by Financial Secretary John Tsang last February, one of the least dim-witted and objectionable was surely the increase in vehicle First-Registration Tax, the ad valorem levy imposed on each car introduced to the Big Lychee's choked streets. Not that it was a work of fiscal or governmental genius – it will 99% fail in its declared aim of reducing traffic – but it at least had its heart in the right place. The Democrats, for reasons even they seem unsure about, oppose the increase.
There are numerous ways to reduce traffic and, in so doing, cut air pollution and make the city a distinctly more pleasant place to be in. If it were up to me, I would make the auto-toll system compulsory for all vehicles and place the sensors that trigger payments not just at tunnels but everywhere. You want to drive in a Hollywood Road-Wyndham Street-Queens Road-Wellington Street loop over and over, fine: that'll add up to HK$10, HK$50, HK$100 a time – whatever it takes to change drivers' minds. Want to drive down to Stanley in your shiny black Alphard luxury van, that'll be HK$500, HK$1,000 whatever. Anyone caught cheating or tempering with the sensor gets the vehicle confiscated. All proceeds to go to subsidize public transport.
I would ban vehicles altogether in some urban areas from 8am to 8pm and narrow other streets to one lane to eradicate parking, and tough luck for businesses who have to move or close (and too bad for their landlords, too). I would privatize traffic wardens so they get a commission on every ticket they write. I would raise the main cross-harbour tunnel fee to HK$100 a car, and the others to HK$70 (or HK$1,000 and HK$700 – whatever it takes). Being a nice guy, I would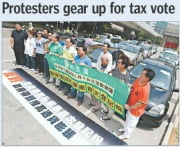 also scrap the First-Registration Tax and the annual licence fees on vehicles; owning a car would be free, but you would pay every time you took it out on the roads.
Until I'm in charge, however, we shouldn't be afraid to use the First-Registration Tax as a blatant revenue-raising device, exploiting many Hong Kong people's obsessive need to own a highly expensive car. At one end of the scale, doubling or tripling the price of a gleaming limo will simply make certain types of people want one all the more. At the other end, it seems, a mere HK$12,000 extra seems to dissuade at least one, presumably hard-up, household from squeezing yet another vehicle onto the jam-packed streets. John Tsang is actually onto something here. Even the pro-Communist rogues at the Democratic Alliance for the Betterment of HK – even the rapacious cartelizers of the Liberal Party – are fine with the increase. The Democratic Party, however, wants the streets clogged and the air poisonous. This is what years of banging your head against a brick wall over universal suffrage does to you.