The following is a comparison of scientific literacy in 2001 in the US, the EU and China. (The table here includes partial data for 2005 and for South Korea, and the full table is here, but this is simpler):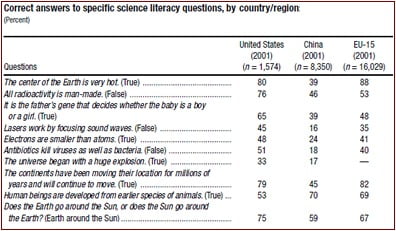 The actual survey comes from the National Science Foundation, using various data sources "which may not be comparable in a strict statistical sense." In other words, the Science Foundation's survey on scientific literacy is unscientific. It could be that the Chinese who didn't know the interior of the Earth is hot were unschooled Tibetan yak herders freezing on some snow-swept mountain, while the Americans who understood that radiation occurs in nature all had doctorates in physics and had just hit peak brainpower after the day's second coffee. But why let that ruin a good opportunity for some over-generalization and stereotyping?
Many of the results cut across regional groups. Everywhere, it seems, people are immensely stupid on the subject of lasers, with only a minority knowing that the devices do not focus sound waves. On the other hand, a satisfying majority of folk realize that the Earth goes round the Sun, not vice-versa. Some of the results are also understandable; it can't be a coincidence that most Chinese think antibiotics kill viruses when their doctors and hospitals make a living selling tetracycline to flu patients.
The fourth-, third-, and second-last questions refer to the Big Bang, plate tectonics and evolution. The Chinese respondents score highly on evolution, yet they seem to be especially ill-informed about the origins of the universe (or it could be that they are cutting-edge proponents of the Cyclic Theory and object to the underlying presumption of the question). Also interesting is that the Americans perform particularly poorly on these two questions. This would tally with the numerous surveys in which a large proportion of people in the US say they believe the Bible to be the literal truth. (Continental drift, on which 79% of Americans answered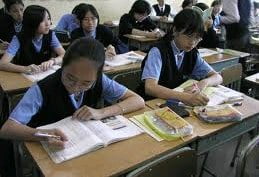 correctly, is also unbiblical.* Perhaps people who dismiss Big Bang/evolution on religious grounds are too stupid to realize it.)
There was a time when Hong Kong would score straight 80s and 90s on a survey like this, as long as the questions didn't conflict with certain theories on statistical probability in casino environments or the power of furniture rearrangement to improve daughters' marriage prospects. However, there is shocking news: 10.9% of Hong Kong parents believe their children's health is more important than academic results. If this carries on, the city is doomed to be as stupid as everywhere else.
* That Institute of Creation Research's layman's summary of plate tectonics is surprisingly good, even though they insist it loses out to their Noah's flood theory.