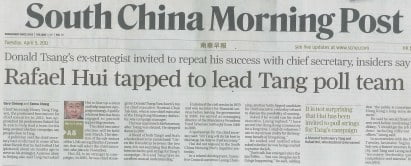 So noteworthy did the South China Morning Post consider yesterday's (slow, holiday) lead story that they posted it outside their website's usual paywall for all the world to see (with cartoon): 'Rafael Hui tapped to lead Tang poll team'.

The Honourable Rafael Hui Si-yan GBM, GBS, JP is the almost-stereotypical pompous, patrician, British-accented Hong Kong civil servant who never goes away. After leaving government in an apparent huff in 2000 (miffed, some believe, over not being made Financial Secretary), he continued to 'serve the community' as boss of the Mandatory Provident Fund Authority before being swept into the office of Chief Secretary from 2005-07 on the coattails of new Chief Executive Donald Tsang after the defenestration of Tung Chee-hwa and the Great Bureaucrat Restoration.
It seems like just five days ago that I referred to the Big Lychee's Chief Executive 'election' process as an embarrassing farce inexplicably taken half-seriously by international media who should know better. And here we have the local press, or at least the SCMP (other news outlets are showing less interest), reporting Hui's rumoured role as Chief Secretary Henry Tang's CE-in-2012 campaign 'strategist' in terms that suggest that it will be a real election, with the result not decreed in advance in Beijing ("invited to repeat his success"). Of course, the SCMP's sad fate is to be forbidden to know better; it must turn a blind eye to the fact that the appointment of the next neo-colonial governor will be a scripted charade and treat it as a genuine poll. That said, until the Celestial choice is finalized and made known to mere mortals on Earth, there is a real fight taking place, with legislator Regina Ip and Executive Council member CY Leung jockeying with Henry (whose hands are tied as a serving official) for public affection and bad-mouthing one another.
The whispered word that Hui will be Henry's 'strategist' (as he was for Donald's superfluous quasi-election upon replacing the crop-haired one in 2005) has obviously been prompted by the more assertive stance taken last week by Regina. It is an unofficial pronouncement that Tang wants the job. The question is, reading between the tealeaves, to what extent does this reflect Beijing's intended choice? Put bluntly, did the Chinese government's local emissaries approve the not-for-attribution low-key briefing from a 'friend' of both Hui and Tang for publication on Ching Ming festival day? Did they actually tell Henry to arrange it? It is hard to believe that a loyal CE hopeful who knows that he is probably, so far, top of Beijing's list for possible anointment, is going to leak a deniable declaration of intent without checking with the Liaison Office first.
Getting the nod from Beijing's representatives to remind us obliquely that he is still around does not guarantee Henry's eventual coronation. The subliminal message is that he is affirmed as most likely choice (Rafael's reprise of his symbolic role in Donald's 'campaign' in 2005 equals history inevitably repeating itself, geddit?). But the Chinese Communist Party keeps secrets tightly and for as long as it wants, and it knows no emotions. As the number-two in Sir Bow-Tie's laughable, won't-get-the-job-done administration, Henry has baggage that may yet disqualify him. For two pins, Beijing will not hesitate to knife him between the ribs at the eleventh hour, dump the body somewhere and order a chorus of bigwigs to suddenly start praising the virtues of CY, or Regina, or Rita, or Mr or Mrs dark-horse tycoon or bureaucrat as the obvious choice for leading Hong Kong into another five years of visionary strutting around and going nowhere. Rafael's mighty campaign-strategist skills won't make the slightest difference.