An English-language newspaper launched at the end of last year has just taken a major step forward in its quest to become an Asia-wide publication. And you hadn't noticed had you? Even though, if you took a morning walk through Central last Friday and today, it was literally thrust into your face.
Behold China Daily's Asia Weekly. An offshoot of the Communist Party's China Daily Hong Kong, the 24-page tabloid is supposed to be distributed as an insert in regional papers, starting with The Nation in Bangkok, whose proprietors gush about how it highlights Sino-Thai media cooperation. (Has anyone told the non-ethnic Chinese population of the Land of Smiles that the centuries-long takeover of their country by the Middle Kingdom seems to be nearing completion? Shouldn't someone mention it?)
According to the launch story, similar arrangements are planned with The Star in Malaysia, Indonesia's Jakarta Post, Singapore's riveting Straits Times, India's Statesman, the Korean Herald and Japan's Daily Yomiuri. Here in Hong Kong, middle-aged women too unsuccessful in life to be hired to hand out the Standard on the street are pushing it at you from multiple points on walkways and sidewalks. The paper hopes to reach a circulation of 120,000 copies a week by the middle of this year.
The idea is to "include incisive analysis from China Daily's panel of expert commentators, offering fresh insights into current affairs affecting China and the region as well as the world at large … thanks to the huge resources of our mother edition and our strong network of proven correspondents." A glance at the front pages of my unsolicited and inadvertently acquired collection of four numbers suggests that the predominant of these is Karl Wilson, a veteran of the Hong Kong media at one time in the distant past, if I recall.
China Daily will presumably have launched this new title (and its European, American and various other permutations) to make money. The days of endless subsidies are over, and it has competition in the form of Global Times, an offshoot of People's Daily that pushes a pugnacious China/CCP-right-or-wrong line – like its blasting of the West for protesting the trumped-up charges against artist Ai Weiwei. But this new weekly is run by China Daily, which carries news stories 24 hours after everyone else and veers strongly towards the insipid. Can you imagine being trapped in an elevator with only 'Fujian delegates see cooperation possibilities' to read? The Asia Weekly, albeit with its focus on features rather than news, is similarly assembled by committee.
Today's edition offers such delights as 'It's a dog's life (Sad tales of animals in Japan disaster)' and 'Trailblazer (Pakistani woman empowers farer sex)'. The front page tells us that "from an economic perspective rich nations are much better placed to cope with a natural disaster," which surely calls for that exquisite phrase brought to us by the younger generation: 'Well, duh'.
Flicking through past copies, it seems that almost the majority of features are about controversy-free issues like disasters, women's rights and the environment. Maybe we should find these subjects fascinating, but for most of us, if we are to be honest, they make the eyes glaze over.  Economics is bland Reuters copy. Politics is pure party line; the nearest to excitement is the occasional report about Beijing successfully clamping down on something that isn't nice. Anything that appears as a supplement across Southeast Asia is going to be dull, but this sets new records for empty, inoffensive tedium.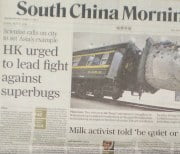 Or so I thought. Then I turn to today's South China Morning Post, expecting to see the top slot given to something at least vaguely gutsy and newsworthy – how can it not be about Ai Weiwei? – and I find it leads with a story about… a Belgian passing through town campaigning against the misuse of antibiotics.
What can we say? The SCMP committee has scooped China Daily's Asia Weekly.