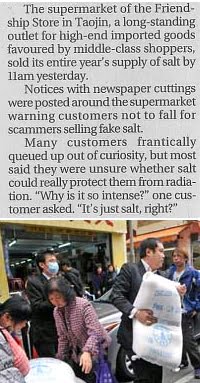 "Many customers frantically queued up out of curiosity," the South China Morning Post reports from Guangzhou, where people were panic-buying salt in the belief it would protect them from the giant spume of deadly radiation that isn't floating their way from Japan's damaged nuclear power station. You have to admire the spirit of someone who does anything frantically out of curiosity; a kitten wildly transfixed by a bouncing ball of wool might come close, or maybe Sir Isaac Newton running trouser-less to his study in the morning in his inquisitive haste to poke things into his eyes and sort out how light works.
You also have to take your hat off to people who can contrive a way, at very short notice, to produce fake salt. Did they grind up refined sugar to make suitably smaller granules, or were prices so high that it paid to decant MSG into empty salt packs?
This run on the only non-organic substance we eat spread to Hong Kong. The picture in the Standard from Fanling suggests that Mainlanders were at the fore here, and if they were buying it by the sack they must have been planning to re-sell it across the border. In other words, these were the same small-time arbitrageurs who in what we might boldly call normal times would be carrying off the Big Lychee's supply of babies' milk formula.
Their condiment-buying zeal would have encouraged local passers-by to join in, as the old kiasu refugee mentality kicked in, as in the days of McDonalds limited-edition Snoopy dolls. Then all that remained was for the wreaker of panic that is our government to announce 'salt mania unnecessary' and all bets were off. Health Secretary York Chow and his sidekick Gabriel Leung are, to a far greater extent than most of our senior officials, noticeably capable of making sense when they speak*, but our leaders are held in the lowest esteem these days, and it would be instinctive even for molecular biologists, nuclear physicists, lateral thinkers and Mensa members to rush out and grab as much sodium chloride as they could lay their hands on. If only frantically out of curiosity.
* To quote York Chow: "Three-quarters of the Earth's surface is made up of seawater." When was the last time anyone can recall Sir Bow-Tie, Financial Secretary John Tsang, or any of the rest saying anything so irrefutable and intellectually robust?